Dhanbad gets gifts worth Rs 63cr
806 schemes, from health sub-centre to power substation, worth a cumulative value of Rs 63.06 crore launched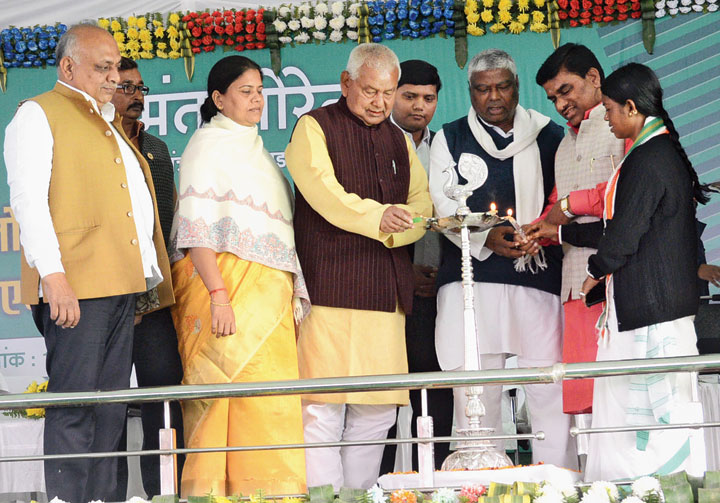 ---
|
Dhanbad
|
Published 16.01.20, 06:34 PM
---
Eight-hundred-and-six schemes were inaugurated and the foundation stones of 43 other schemes were laid on Thursday here at a state government fair that chief minister Hemant Soren was supposed to attend but had to skip due to ill health.
The schemes, related to a range of infrastructure from health sub-centre to handicraft centre to power substation to burial ground, are worth a cumulative value of Rs 63.06 crore.
Though the CM was absent, a host of leaders including Dhanbad MP P.N. Singh, mayor Chandrashekhar Agarwal, MLAs Purnima Singh (Jharia), Mathura Prasad Mahto (Tundi), Indrajit Mahto (Sindri) and Aparna Sengupta (Nirsa) were present at the development fair at Golf Ground.
The inaugurated schemes included the renovation of 23 health sub-centres across the district worth Rs 1.43 crore; three health centers, electrification project, water supply project, approach road and block-cum-circle office at the cost of Rs 23.71 crore; 19 schemes of Dhanbad Municipal Corporation worth Rs 4.43 crore; a 10 MVA power substation of JBVNL worth Rs 3.95 crore; three burial grounds and one Jaher Sthan (sacred grove of tribals) at a cost of Rs 1.23 crore, two quarters of forest guards worth Rs 67.90 lakh, a handicraft-cum-production centre worth Rs 1.5 crore; 500 anganwadi centres built by BCCL from its corporate social responsibility funds; and smart classes in 129 schools at a cost of Rs 1.29 crore.
The foundation stones of quarters meant for tehsil and circle staff worth Rs 2.46 crore, and 37 schemes of Dhanbad Municipal Corporation worth Rs 13.83 crore were also laid during the occasion.
Speaking on the occasion, Tundi MLA of JMM Mathura Prasad Mahto said: "Though the chief minister was scheduled to inaugurate the development fair in Dhanbad, he could not come here due to ill health. But all the schemes that were inaugurated today (Thursday) will herald a new era of development for Dhanbad."
Dhanbad mayor Chandrashekhar Agarwal said they were hopeful that Dhanbad would continously get its share of funds for development like previous times and the momentum of development would not be derailed in the district,
Dhanbad deputy commissioner Amit Kumar, who welcomed all the notables, said: "With the advent of a new year, a new era of development began today (Thursday) in Dhanbad through several new schemes that will benefit the people of Dhanbad with improvement of health, road, electricity and water supply as well as infrastructure."