Loo and behold, hygiene at Rs 3 in Dhanbad public toilets
The napkins, made by women self-help groups, are priced at Rs 3 per piece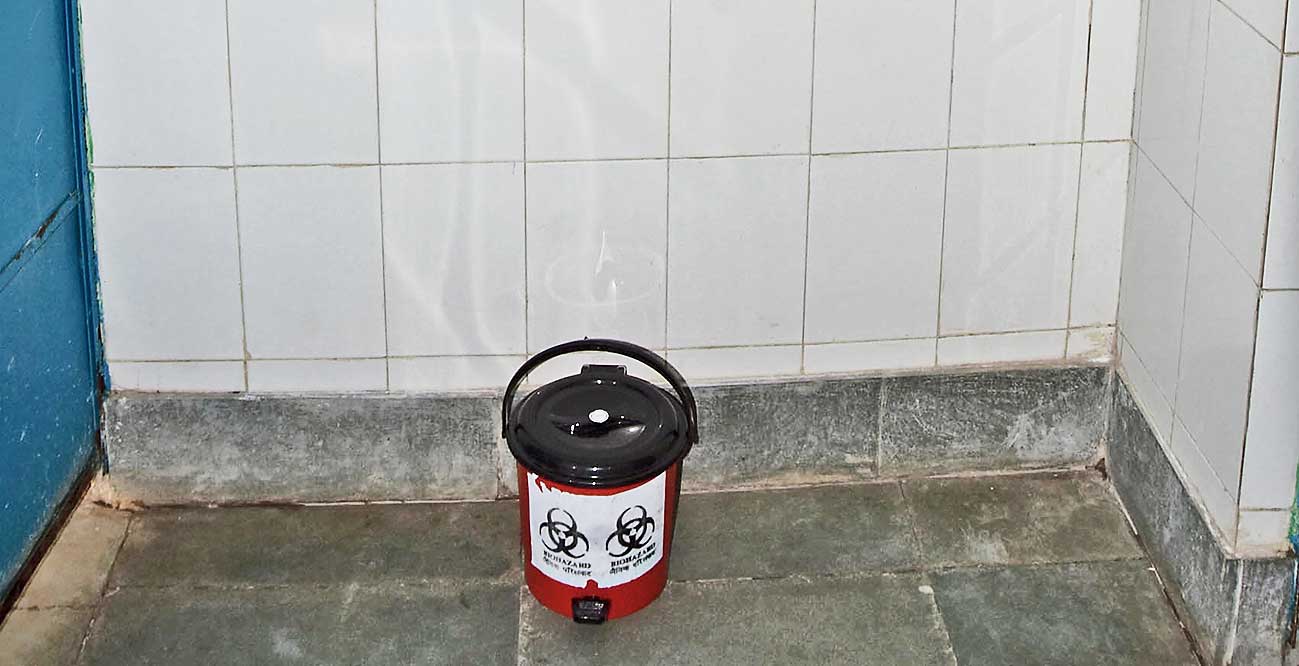 A sanitary napkin box at a public loo on PMCH campus in Dhanbad.
(Gautam Dey)
---
Dhanbad
|
Published 26.01.19, 07:29 PM
|
---
The coal town civic body has started selling sanitary napkins at subsidised rates in all 45 public toilets spread across Jharia, Dhanbad, Sindri, Katras and Chhatatand.
Napkins, made by women self-help groups (SHGs) at the newly set up production unit at Patragora in Ward 17, are priced at Rs 3 per piece.
The idea behind the move is to promote the SHGs engaged in production of sanitary napkins and to make women aware about menstrual hygiene. The napkins are sold by attendants at the public toilets.
Dhanbad Municipal Corporation city manager (sanitation) Vijay Kumar said, "We are selling the napkins at Rs 3 apiece, but will hike the rate."
"We have installed a tray for used napkins in each toilet so that those can be disposed of properly," Kumar said, adding the napkins had been aptly named Swachh Survekshan 2019 sanitary napkins to make users aware of their onus to keep the coal town clean and improve its swachh ranking.
"Instead of promoting packets with seven to eight pieces, we are selling specially packed single napkins," he added.
In all, 10 women SHGs with the civic body's help have set up the sanitary napkin production centre inaugurated by mayor Chandrashekhar Agarwal on December 16, 2018.
Production began in last week of December and the civic body decided to buy the napkins. Priyanka Kumari, secretary of the Area Level Federation of SHGs said, "Around 45 women at the unit work in four shifts of two hours each. The Dhanbad branch of Bank of India gave a Rs 8 lakh loan. Bank guarantee was given by the civic body."