Deoghar bandh for reopening Baidyanath temple
The traders' solidarity with the Panda Dharma Rakshani Sabha — a body of priests — is being attributed to the loss of business owing to its closure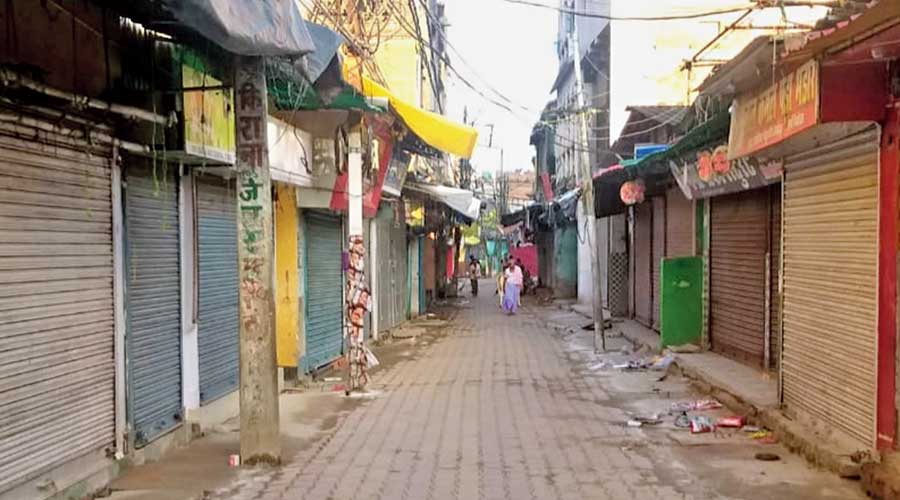 Shops closed during the bandh in Deoghar on Monday
Shabbir Hussain
---
Jamshedpur
|
Published 31.08.21, 12:44 AM
|
---
Almost all shops, barring those dealing with essential goods, downed shutters in Deoghar on Monday in support of the daylong bandh called by the Panda Dharma Rakshani Sabha for the reopening of Baba Baidyanath Temple.
The traders' solidarity with the Panda Dharma Rakshani Sabha — a body of priests at the Baidyanath temple — is being attributed to the loss of business owing to its closure.
"The shopkeepers and business establishments decided to down shutters voluntarily in support of the bandh called by the priests' body as the business units are equally affected by the closure of the temple. The economy of the city is linked with the temple that draws a large number of devotees. However, it has been closed since April this year and traders are staring at huge losses. We decided to support the bandh hoping that the government would understand the gravity of the situation and issue an to reopen the temple," said Alok Malik, a Deoghar-based trader and the zonal vice-president of the Federation of Jharkhand Chamber of Commerce and Industries (FJCCI).
The restaurants, hotels, shops and other establishments used to earn revenues from hordes of devotees who used to turn up at the temple daily before the pandemic struck.
"We fully support the government decision to close the temple for devotees when the Covid pandemic was at a peak. However, with Covid figures going down, all the temples in other parts of India have been opened now. We had met the Jharkhand chief minister in July and appealed for the reopening of the temple as we are staring at starvation. We had no option but to stage a daylong bandh so that the government takes heed of our demand," said Kartik Thakur, general secretary of Panda Dharma Rakshani Sabha.
Thakur claimed that nearly 5,000 households of priests were directly dependent on the revenues from devotees.
Deoghar deputy commissioner Manjunath Bhajantri said the bandh was peaceful.
"No untoward incident was reported from anywhere in the district. Elaborate security arrangements were made at all strategic places. We are abiding with the government directive and will allow devotees at the temple as soon as the government's disaster management department issues a notification for reopening the shrine," the deputy commissioner said.