Demanding arrear payment resident doctors go on strike
OPD of six medical colleges across Jharkhand to remain non-operational from Tuesday for an indefinite period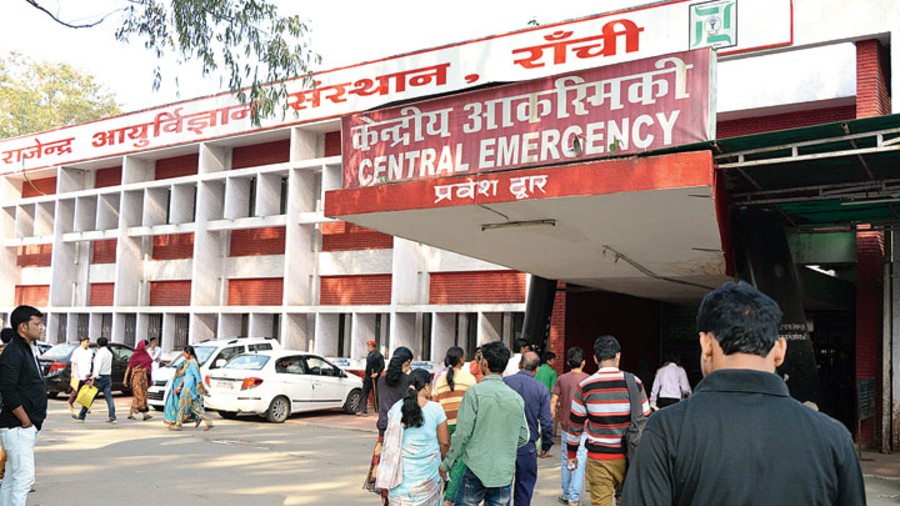 Resident doctors of 6 hospitals including Rajendra Institute of Medical Sciences, Ranchi will be going on an indefinite strike from Tuesday
File Picture
---
Ranchi
|
Published 08.03.21, 10:51 PM
|
---
The Outdoor Patient Department (OPD) of the six medical colleges across Jharkhand are likely to remain non-operational from Tuesday onwards as over 500 resident doctors have decided to go on an indefinite strike. The protesting doctors are demanding payment of arrears of the seventh pay commission that was implemented in 2016.
All the resident doctors in – Rajendra Institute of Medical Sciences (RIMS) in Ranchi, Mahatma Gandhi Memorial College Hospital (MGM) in Jamshedpur, SNMMCH in Dhanbad, Palamu Medical College, Hazaribag Medical College, and Dumka Medical College – have been sporting a black band at work since last Monday as a mark of protest against the alleged apathy of the government towards their long-standing demands.
On Monday, the representatives of the Jharkhand Resident Doctors Association (JRDA) held talks with RIMS Director Kameshwar Prasad and Health Secretary KK Soan, but despite holding discussions the disgruntled doctors decided to go ahead with a full-fledged strike. Prasad as well as Soan have assured the doctors that their file would be sent to the finance department soon and the necessary payments would be made, but the doctors seemed to be in no mood to accept any further delay in the process, said sources present during the meeting.
"Resident doctors chose to boycott OPD in all medical colleges across the state today. The OPD at RIMS was operational till afternoon, but we decided to boycott RIMS OPD also, after talks with the authorities failed to yield a satisfactory result," said Convener of JRDA, Dr. Ajit Kumar.
Kumar maintained that around 500-odd junior and senior resident doctors of the state have been waiting for the payment of their arrears of the seventh pay commission since 2016. The government, he said, was taking services from the doctors but not doing the needful to ensure that they get their dues.
The OPD in the six medical colleges is mostly run by resident doctors. With them, boycotting of the OPD is likely to affect patients who visit hospitals for minor ailments and injuries, sources said. However, the district hospitals will remain operational during the strike, the protesting doctors added.
Dr. Vikash Kumar, a member of the RIMS Junior Doctors Association, said that the doctors have raised their concerns on different platforms, but the government turned a deaf ear to their pleas.
"Do we need to go on a strike every time we want the government to do anything for us? We get the tag of frontline workers, but still don't get our dues on time," he said.
The doctors have alleged that they have not been paid their salary as per the seventh pay commission from 2016 to March 2019. On average, each doctor is entitled to a payment of INR 700000 as arrears, they said.