Dead meters haunt power revenue
The meters, each costing Rs 40,000, were installed in 2013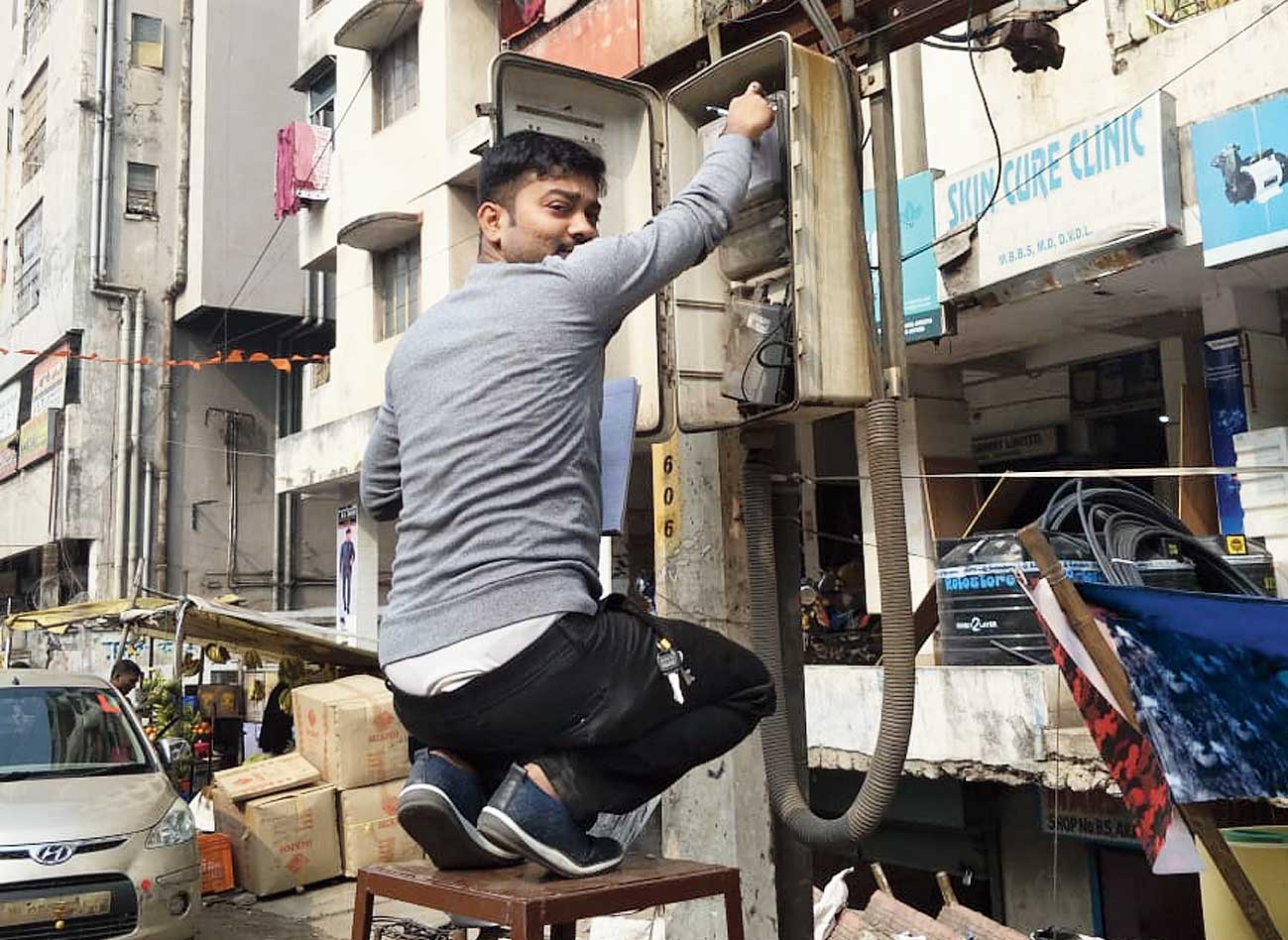 A JBVNL worker checks a transformer meter in Mango, Jamshedpur.
Picture by Animesh Sengupta
---
Jamshedpur
|
Published 09.03.19, 07:35 PM
|
---
Most of the 3,000-odd transformer meters that were installed in Jharkhand Bijli Vitran Nigam's (JBVNL) Singhbhum electricity supply area barely six years ago to keep tabs on power distribution and consumption have gone defunct.
The problem came to the fore after the state power utility began examining its existing infrastructure ahead of peak summer to make optimum use of electricity and stem acute crisis.
A senior JBVNL engineer, posted in Jamshedpur circle, said the meters, each costing Rs 40,000, were installed in 2013. He said the key objective behind installing them was to check whether the revenue generated against supply of electricity to consumers was proportionate.
"But, ever since the meters were installed, the department never tallied power supply, distribution and consumption. Also, the department never took steps to maintain these costly gadgets, as a result of which 80 per cent of these transformer meters have gone defunct," the senior engineer told this correspondent.
Sources in JBVNL said there were 1,500 transformers in Jamshedpur circle alone and an equal number of transformer meters. The command areas cover Mango, Parsudih, Govindpur, Uliyan (Kadma), Bhuiyandih, Birsanagar and Adityapur.
General manager-cum-chief engineer of JBVNL Arvind Kumar agreed that the transformer meters were installed for accurate data on power distribution and consumption.
"The process of checking transformer meters began last month. We will take a decision on replacing the defunct one after the verification is completed," Kumar said, conceding that "a considerable number" of transformer meters had gone defunct.
The general manager refused to list reasons behind the meters going defunct, but promised a solution to the problem after March 31.
"We are currently busy carrying out projects under the Integrated Power Development Scheme (IPDS) in rural areas and Restructured Accelerated Power Development and Reforms Programme (RAPDRP) in cities like Ranchi and Jamshedpur. Hence, we are trying to keep the supply line intact till March 31. Once these programmes are over, we can replace the defunct meter," he said.