Dams, reservoirs overflow as incessant rain batters Jharkhand
Three gates each of Maithon, Panchet opened in the last two days, says DVC official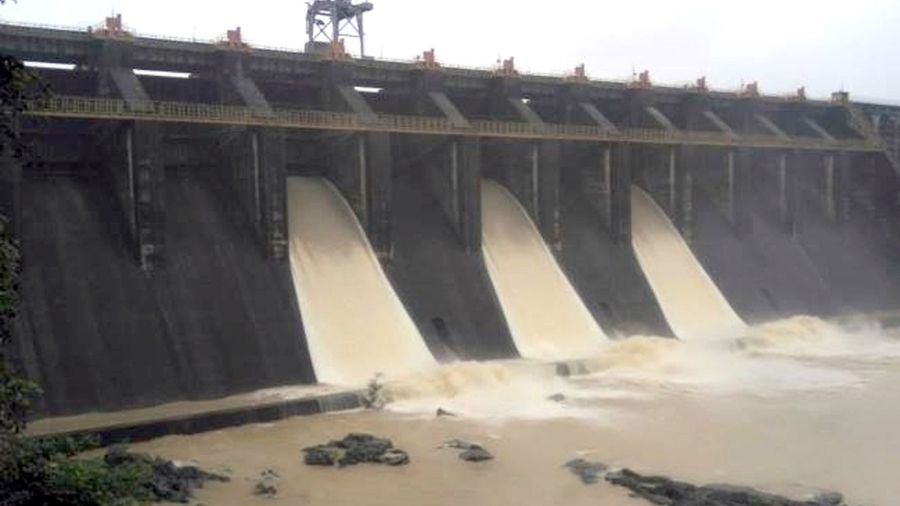 ---
Dhanbad
|
Published 19.10.21, 06:19 PM
|
---
The incessant rains during the last two days have led to a rise in water level at almost all dams and water reservoirs of Damodar Valley Corporation situated in Dhanbad and its surrounding areas including Maithon and Panchet, owing to which these dams had to discharge water.
As per the morning data, Maithon Dam situated on river Barakar the water was flowing at 480.64 feet, around 15 feet below the danger level of 495 feet. Panchet dam situated on river Damodar flowed at 411.85 feet around 14 feet below the danger level of 425 feet.
Meanwhile, the water level of other reservoirs including Tilaiya Dam located in Koderma district on river Barakar also rose to 1215.58 feet, less than seven feet of the danger level of 1222.09 feet.
The Tenughat dam situated on river Damodar in Bokaro district flowed at 852.89 feet while the water level of Konar dam situated in Hazaribagh district over Damodar river reached 1397.51 feet.
Talking to The Telegraph Online today, Apurba Saha, Public Relation officer of Damodar Valley Corporation at Maithon said, "Three gates of Maithon and Panchet each were opened during the last two days due to heavy rains as the cumulative release of around 42262 acre feet of water was carried out from both dams during the last twenty-four hours.
"Though the situation is under control now, the inflow in Maithon yesterday was around 14423 acre feet while the outflow was 23251 acre feet" he said and added that the inflow in Panchet was 50491 acre feet while the outflow was 19011 acre feet.
Meanwhile, the heavy rains also led to a rise in the water level of Topchanchi lake, a man-made lake made up of 10 water channels flowing through Parasnath Hills which overflowed at 75 feet.
The rains also affected the coal production and despatch in several collieries of BCCL, ECL and CCL at a time when all efforts are being taken to replenish the dwindling stocks of different powerhouses across the district as around 14 rakes of coal were despatched yesterday from the different collieries of BCCL against the target of despatch of 18 rakes.
Chanchal Goswami, Director Technical of BCCL while talking to media said, "The rains have affected coal production up to 68 to 70% yesterday but we are trying to ensure the despatch and there is no cause of concern at the moment."