Dalma sanctuary elephants pose threat to humans and crops
The jumbos earlier stationed at the hilltop have come down to the foothills causing concern among villagers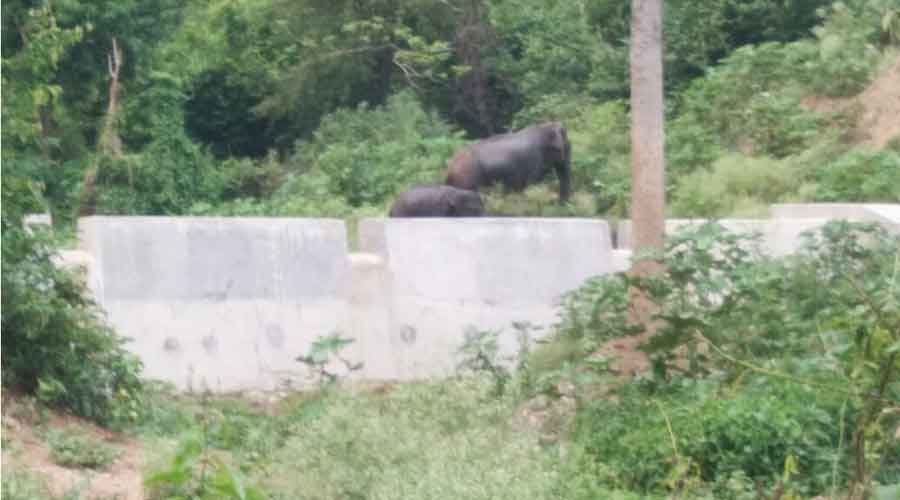 Elephants inside Dalma wildlife sanctuary.
File picture
---
Jamshedpur
|
Published 24.06.21, 09:12 PM
|
---
Elephants are positioned perilously close to human habitation at the foothills of the Dalma wildlife sanctuary, posing a danger to crops and villagers.
Foresters and rural youths are patrolling the foothills to keep around 40 elephants at bay. The jumbos, most of whom were earlier stationed at the hilltop, have come down to the foothills.
Foresters said danger to human life was less as unlike other forest areas, including Chandil and Kandra in Seraikela-Kharsawan, people living at villages inside the 192 sq km sanctuary, don't tease elephants.
The Chandil forest range often witnesses the presence of elephants from Bengal, Tamar (near Ranchi). Incidents of jumbos destroying homes, and wiping out standing crops are a common sight. Sometimes, elephants, when teased, also kill humans. Same is the case with Kandra.
"However, it is not possible to stop elephants from entering farmlands and damaging crops. Elephants destroying crops is not a new thing in Dalma but there are very few human casualties as villagers don't tease jumbos by throwing stones at them and bursting crackers close to them. Villagers have now learnt to live with elephants," a forester said.
He, however, added it is very difficult to predict the mood of elephants. "Though we have been taking all necessary precautions to prevent man-animal conflict, it is very difficult to predict the mood swings of wild jumbos," the forester pointed out, requesting not to be quoted.
Dalma range officer (West) Dinesh Chandra confirmed the presence of elephants on the foothills. "We don't think there is any danger to human life on the foothills. But the elephants may destroy crops as they have been doing in the past," he added.
Some of the elephants are still stationed uphill. Around a dozen jumbos, including calves, were spotted by foresters near Chhotka Bandh on Thursday morning. "Elephants are enjoying their time without the presence of tourists. Villagers have become accustomed to living with the jumbos," a tracker (village youths recruited as daily wagers to keep a tab on movement of elephants and other animals), said.
The scenic Dalma sanctuary, 30 km from Jamshedpur, is presently close in view of the Covid-19 pandemic.
The Dalma elephants will migrate to the jungles of Bankura and West Midnapore in neighbouring Bengal in August-September and return in February-March next year. Depending upon their mood, jumbos may migrate to Bengal earlier than their usual schedule.