Dalma sanctuary celebrates World Wildlife Day
Foresters, villagers and others vow to protect the flora and fauna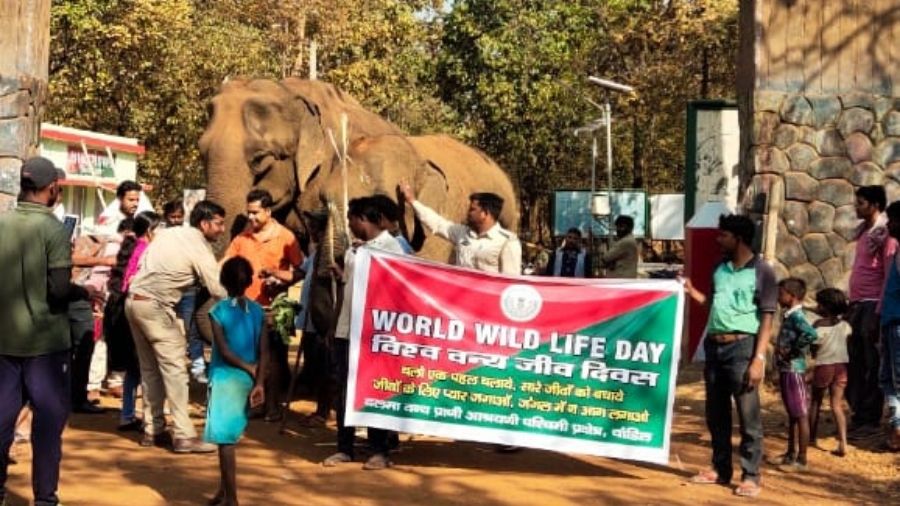 People celebrate Wildlife Day at the Dalma sanctuary in Jamshedpur on Wednesday.
Telegraph Picture
---
Jamshdepur
|
Published 03.03.21, 08:21 PM
|
---
The Dalma Wildlife Sanctuary on Wednesday celebrated World Wildlife Day  by feeding animals and raising awareness about the importance of protecting the jumbo abode and its flora and fauna.
Foresters, forest guards, trackers, members of the eco-development committee and people of nearby villages assembled at Makulokaocha, the gateway to the sprawling 192 sq km, to celebrate the occasion.
Foresters and villagers fed bananas to two domesticated elephants, Rajni and Champa, as well as monkeys who trouped down from the mountains. They also went inside the deer park to feed the animals.
"The importance of World Wildlife Day was explained to those who had gathered. Stress was also laid on the need to protect the sanctuary from incidents of fire which usually occurs during summer," said Dalma range officer (West) Dinesh Chandra.
"Villagers who venture into the sanctuary smoke bidis and them inside. The bidis fall on dry leaves and cause fire. It is a perennial problem and we are trying our best to make villagers understand about the dangers of smoking inside the sanctuary," Chandra added.
Members of eco development committee, who play an important role in spreading awareness about the futility of killing innocent animals during Bishu Shikar or Sendra (the annual hunt festival of the tribals which takes place at the sanctuary), said they were on their job and people are slowly but steadily understanding the need to protect the jungles and animals.
"We took a pledge to protect the sanctuary and its animals. Today is an important day which tells us about the need to protect the environment. This can only be done if we love our jungles and animals," said Manoj Pradhan, an active  member of eco-development committee.