Dalma elephants begin migratory journey to Bengal
The jumbos are likely to be back home by February-March next year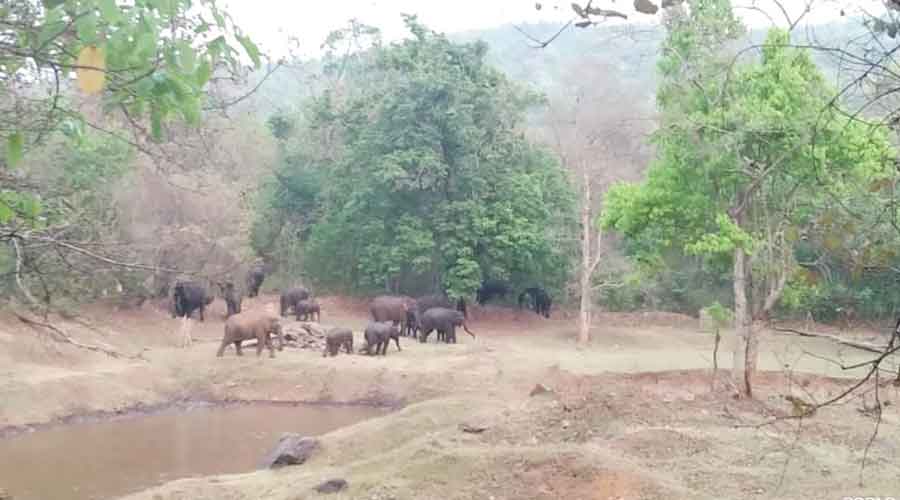 Elephants inside Dalma Wildlife Sanctuary
File picture
---
Jamshedpur
|
Published 07.08.21, 05:03 PM
|
---
Elephants at Dalma wildlife sanctuary have begun their annual migratory journey to Bengal as around a dozen left for the jungles of West Midnapore and Bankura on Thursday.
Other jumbos would also follow them as the elephants usually migrate to the neighbouring state in August-September.
"The elephants have started moving to Bengal even though there is abundance of food and water at the sanctuary. Most of the elephants are presently scattered inside the sanctuary while a few are at the foothills," a forester said.
He added that food would not be an issue as ample vegetation grows along the migratory corridor. "The trackers spotted around a dozen elephants, including calves on the migration route to Bengal," the forester said on condition of anonymity.
Villagers living along the corridors have been asked to be vigilant and not tease the elephants.
The elephants migrate to Bengal via two designated corridors – one from Jhunjka, leading to Nutandih, and the other from Burudih, passing through Narsingpur, Dalapani, Suklara and Aamdapahari.
Dalma range officer (West) Dinesh Chandra said most of the elephants are expected to leave the sanctuary this month. "Some elephants remain anchored at the sanctuary throughout the year as they don't migrate. The elephants would be back to their Dalma home by February-March next year," he added.
Jumbos, who thrive in peaceful environments, had migrated early to Bengal in 2018 as well, owing to an encounter between Maoists and paramilitary forces that affected their normal schedule. Herds had also migrated to Bengal early (July) last year.
Dalma elephants may extend their stay in the neighbouring state if water and food is found in abundance. They also stay anchored to a place on the return journey for the same reason. But usually, the pachyderms return to their abode in February-March. Depending upon their mood, jumbos may also go back home in January.

Elephants kill man in Seraikela
A 52-year-old old man was trampled to death by a herd of elephants in adjoining Seraikela-Kharsawan on Friday morning.
The deceased, Kalicharan Mardi, along with his three children, had gone to Kanki jungles under Kandra thana to pluck leaves for goats when he came across the herd. His children ran away but Mardi was trampled by the elephants. He died on the spot.
The forest team is bursting crackers to drive away the herd which is anchored at Kanki jungles for around a week.