Daily wage earners on the brink of starvation
Deprived of ration cards and income, workers depend on social organisations to feed their family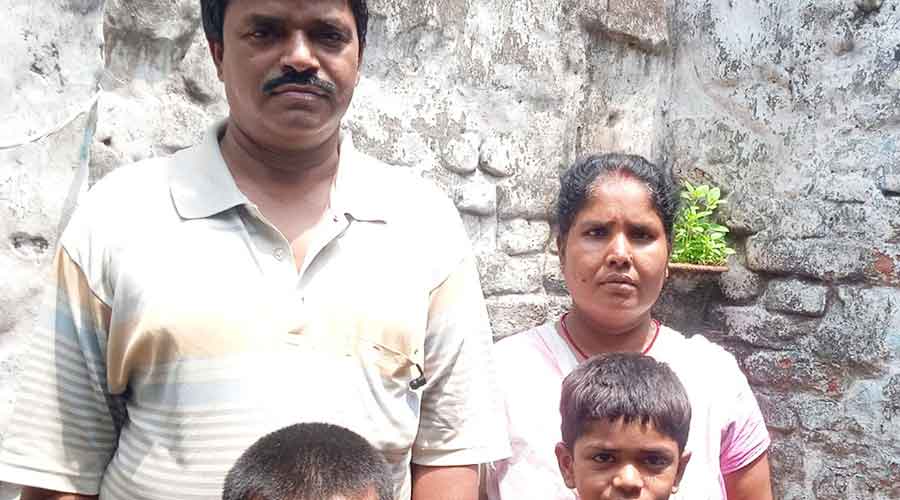 Raju Sao, a chaat seller along with his family members at his residence in Koiri Bandh, Jharia in Dhanbad on Thursday.
Gautam Dey
---
Dhanbad
|
Published 03.06.21, 05:08 PM
|
---
A large number of people, including construction workers, street vendors, rickshaw pullers, road side restaurant staff who are deprived of ration cards are facing the double blow of loss of income due to lockdown and lack of PDS foodgrains.
Many of these families like that of Raju Sao of Koiri Bandh locality and Shankar Sao of Jharia Sabji Bagan are on the verge of starvation.
Talking to The Telegraph Online on Thursday, Raju Sao said, "Our family income of five, including three sons, was dependent on chaat stalls put up at  fairs or exhibitions but with no permission of fairs since March 20 last year we are penniless and somehow living on food grains provided by some social worker or other people including neighbours."
"All of my three children have left studies and are sitting idle at home," said Sao.
He said the former councillor of his ward helps him liaison with social organisations that arrange food grains for his family.
"We have applied for ration cards several times earlier but not received the same and though received the foodgrains during the last year from PDS shop for three months as per government scheme but were deprived of the same this year," said Sao.
Echoing his sentiments, Shankar Sao, a 68-year-old fruit seller of Sabji Bagan locality of Jharia said, "My children have deserted me after the death of my wife three years ago and I somehow eke out my living by selling fruit at Bata More in Jharia but due to ill health as this age I could not go out daily and thus  have to sleep empty stomach sometimes"
"At this age I am wary of my ill health and also keen on getting an Ayushman Card but without a card, I can't get a ration card also" said Sao.
Former councillor of ward number 37 of Jharia, Anup Sao said,"Not only daily wage earners of coal pickers but such is situation that many private schools schools whose schools are lying closed since over 15 months and they are deprived of salary are also facing foodgrain crisis due to lack of ration cards"
Activist Shyamal Mazumdar, who is also the district convenor of Path vikreta samanvaya Samiti  said, "Only 20% out of total 5000 street vendors are having the ration cards and rest are facing great difficulty in managing their life and many have left to their native places to carry out work in agricultural field etc.
District Supply officer, Bhogendra Thakur, said, " the entire process of ration card allotment is on line and as per our records there is no pending application for ration cards"
"If any person has not received the ration card despite applying he can send the receipt or any other print out on my whatsapp number-7739407684 and we will ensure early allotment of ration card to them," said Thakur.