Covid glare on private tutors
Many are forced to sell off their set up to meet daily expenditure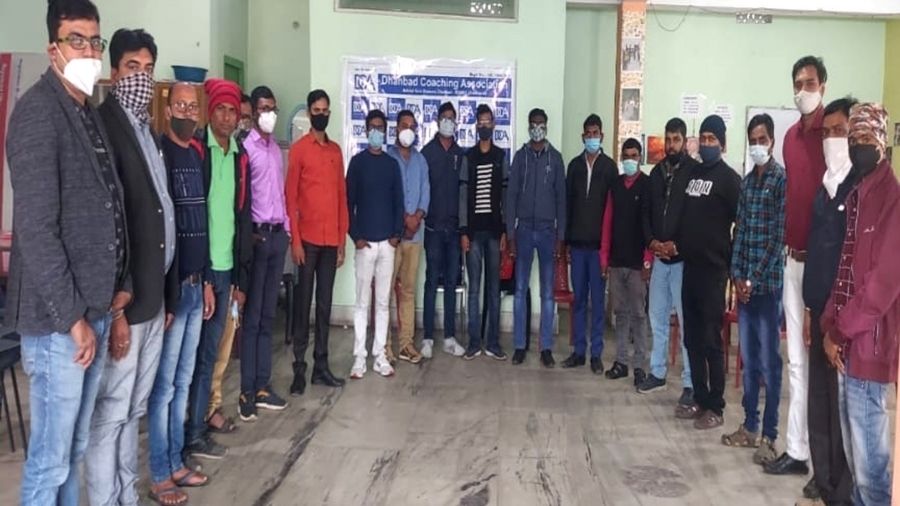 ---
Dhanbad
|
Published 15.01.22, 04:45 PM
|
---
More than 10 thousand private tutors and coaching centre operators of coal town are facing penury due to restrictions imposed on their operation as per the latest covid guideline issued by  the state government earlier this month.
The coaching operators who faced the more than 17 months of closure between March 22, 2020 to August 2, 2021 are the most affected section of the society due to the pandemic.
The irate private tutors and coaching operators who held a meeting of Dhanbad Coaching Association in Govindpur on Saturday demanded the government to allow them to operate their coaching centers with 50% attendance capacity at the earliest so that they can clear their dues with regard to rent etc.
Talking to The Telegraph Online today in this regard, Manjoj Singh President of Dhanbad Coaching Association said, "The long closure of coaching centres more than 17 months led to closure of 50% coaching institutes as they could not pay rent, electricity charges and the salaries of the staff. Even after the reopening as per the government relaxations on August 2, 2021 the attendance in the centre's remained dismal due to safety apprehension among the parents as well as students."
Another  reason for lukewarm response among students and parents about coaching centres based learning is the restricted permission given to school, colleges and other academic institutions by the government from August 2 for launching teaching of senior students only of VII to XII and above in school, colleges and universities.
Abu Talha, a Wasseypur based coaching center operator said, "I can't understand the wisdom of the government in allowing liquor shops and restaurants to operate even after 8 pm while denying permission to the schools, colleges  and coaching institutes to operate even with decreased attendance viz 50%"
"In many of the remote and rural areas the teaching learning activity largely depends of coaching centres or private tutors due to lack of fully functional colleges and schools or even due to ill equipped or short staffed schools and others," said Talha. 
Echoing the sentiment, Ranjit Kumar Mahto a private school operator said, "The pandemic has compelled many coaching operators to close down their institutions permanently and sell off their furnitures to pay off the pending dues."