Covid effect: Vegetable markets being shifted
Process has been initiated to shift altogether 19 vegetable markets out of 24 to nearby open space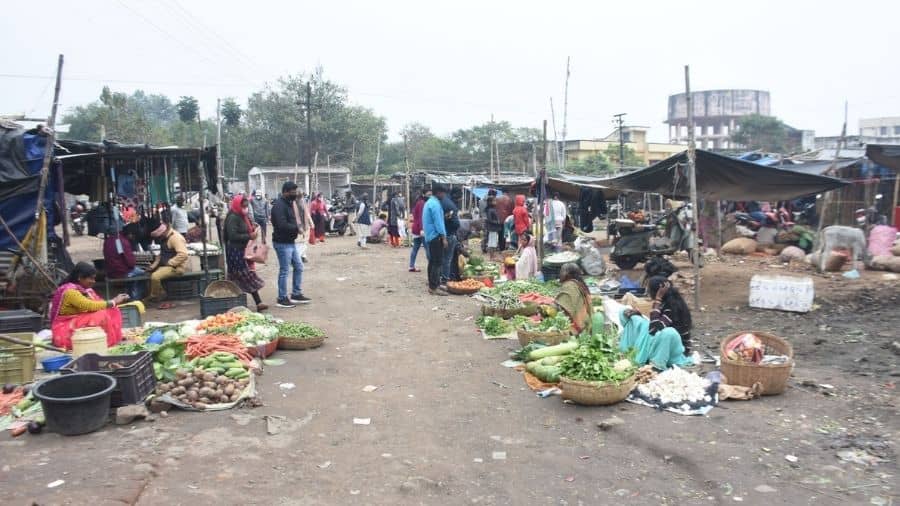 The Saraidhela Hat Bazar in Dhanbad
Gautam Dey
---
Dhanbad
|
Published 14.01.22, 05:18 PM
|
---
With the rise in Covid cases, the district administration of Dhanbad has geared all way out to avoid social distancing rule violation in market places and offices and particularly in the vegetable market.
Process has been initiated to shift altogether 19 vegetable markets out of 24 to nearby open space from the existing congested place of operations.
All this, as vegetable markets have turned super spreader during the second wave of pandemic in many places due to lying in congested places.
Instructions in this regard have been given by Prem Kumar Tiwari  sub divisional of Dhanbad to circle officers of 12 circles of district including Dhanbad, Purvi Tundi, Tundi, Topchanchi, Baghmara, Nirsa, Jharia, Govindpur, Baliapur, Putki, Egarkund, Kaliasole etc to shift the market places lying in congested places in their jurisdiction to newly designated open space in their vicinity to avoid social distancing rule violations.
Notably, majority of these 19 market places, including Hirapur Hatia vegetable market and Purana Bazar market are presently operating from heavily congested places where regular social distance violation violations are witnessed due to narrow space to move and also limited place to park vehicles of customers, shopkeepers and others etc.
SDO Prem Kumar Tiwari said,"As per the newly identified places for market shifting, Hirapur Hatia Market will be shifted to Jaila Parishad ground Dhanbad; Purana Bazar road haat to Railway Ground, Tetutallah;  Bartand Haat to District Employment Exchange ground; Steel Gate vegetable haat bazar to BCCL Koylanagar ground."
Similarly in Jharia, the vegetable market near Bata More will be shifted to newly constructed vending zone at Baniahir ground while the vegetable market of Govindpur near Govindpur police station will be shifted to Govindpur MADA ground; Govindpur Bada Jamua based market to Mandakini School Ground. Topchanchi Sabzi Haat will be shifted  to Topchanchi Hatia Maidan and Gomoh Sabzi Bazar to Gomoh Railway Ground.
Baghmara Rajganj road vegetable market will be shifted to Rajganj Paltantand ground, Mahuda police station based vegetable market to Mahuda Railway station ground; jain Dharmshala road vegetable market to Railway ground Katras.
In Baliapur area the Durga Mandir based vegetable market will be shifted to Railway High school based ground and Dak Bunglow while in Tundi the Hatiatund based market will be shifted to Tundi High School and Tundi Latani Bazar based vegetable market will be shifted to ground near the Block office Tundi.
In Tundi itself the Pokharia based market will be shifted to Pokharia Mission Ground while in Baghmara the Shankardih based market will be shifted to ground near the Raghunathpur Panchayat. In Sindri the Saharpura  vegetable market will be shifted to Shaharpura Football Ground while in Nirsa block the Kumardubi vegetable market is set to be shifted to Shram Kalyan Kendra ground Kumardubi.