Apex trade outfit wants shops closed three days a week
Singhbhum businessmen appeal to CM to impose lockdown in steel city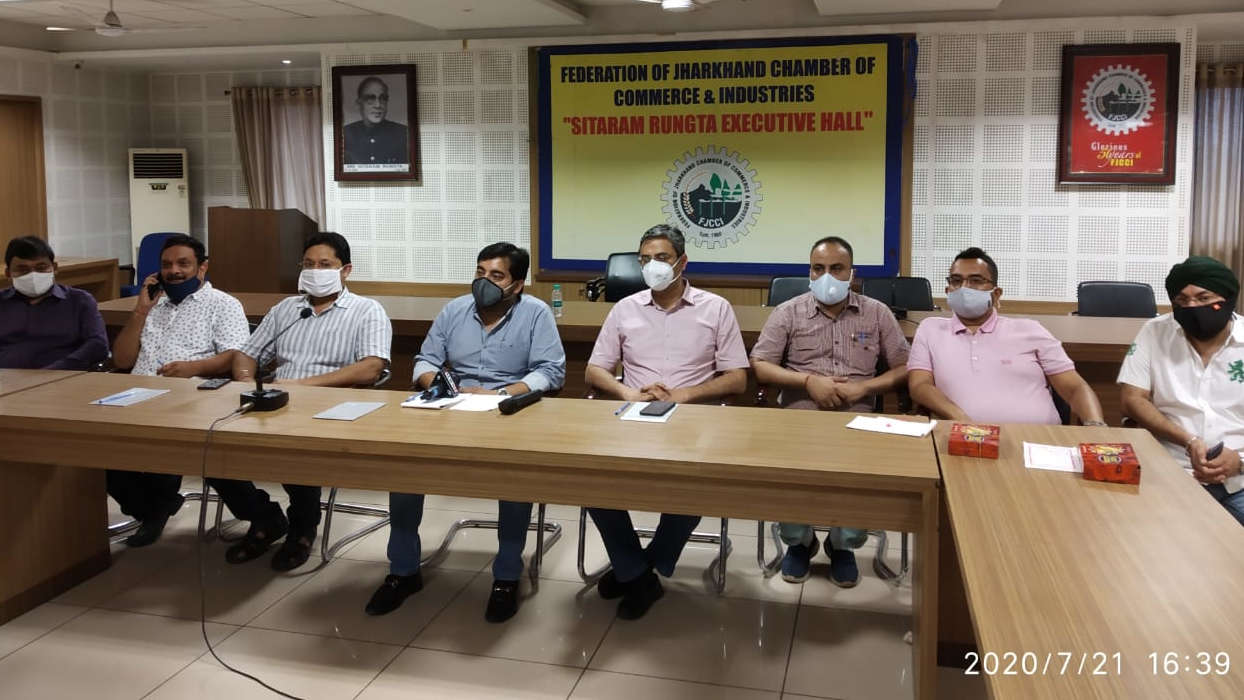 FJCCI president Kunal Ajmani (third from the left) and other office-bearers addressing the media in Ranchi on Tuesday.
Telegraph picture
---
Ranchi, Jamshedpur
|
Published 21.07.20, 09:23 PM
|
---
The apex trade body of Jharkhand has appealed to all businessmen to keep their establishments closed for three days a week from now to combat the rapid spread of the coronavirus.
Federation of Jharkhand Chambers of Commerce and Industries (FJCCI) Kunal Ajmani, who held a press meet at Chamber Bhavan in Ranchi on Tuesday afternoon, said their appeal extended to all shops except those selling essentials.   
"We appeal to all businessmen of the state to keep their shops and establishments, except those dealing in essential items, closed on Friday, Saturday and Sunday every week till the spread of the coronavirus is controlled," he said.
Ajmani said FJCCI office-bearers believed that such an attempt, though introduced as an experiment, may help contain the spread of the virus by breaking the chain.
"We had detailed discussions with associated organisations through digital medium and gathered their opinion before making this appeal, "he said, adding that some had even suggested a total lockdown for up to two weeks. According to data released by the government, the total number of positive cases stood at 5,777 on Monday night. Of these, 2,889 were active. As many as 2,835 were discharged from hospital after their recovery, while 53 have died. 
As on Monday night, the number of cases in Ranchi was 804, followed by Hazaribagh with 404 and Dhanbad 401.
In Jamshedpur, where there has been a rapid spread of the virus too, the Singhbhum Chamber of Commerce and Industry (SCCI) has called for a lockdown in the steel city.
"Jamshedpur has become a hotspot of the coronavirus. Many doctors and shopkeepers are infected, most of the nursing homes and government offices including the district collectorate and civic body offices have been sealed. The state government should act immediately and impose a lockdown," said Vijay Anand Moonka, general secretary of Singhbhum Chamber of Commerce and Industry.
Moonka has also tweeted his request, tagging no less than chief minister Hemant Soren.
On Tuesday, three more Covid-19 patients died at the Tata Main Hospital taking the death toll to 14 in the span of 18 days. On Monday, TMH reported four deaths.
In east Singhbhum, the total number of Covid-19 cases rose to 938 as on Tuesday. Figures available with the health department revealed that more than 50 positive cases were reported daily for the past three consecutive days.
Mango Bazar and the fish market at Sakchi were closed after a few shopkeepers tested positive. A district administrative official said the markets would be sanitised.