Stiff penalties for Covid-19 safety violators draw flak
BJP calls the Hemant Soren led govt 'anti-people and anti-poor'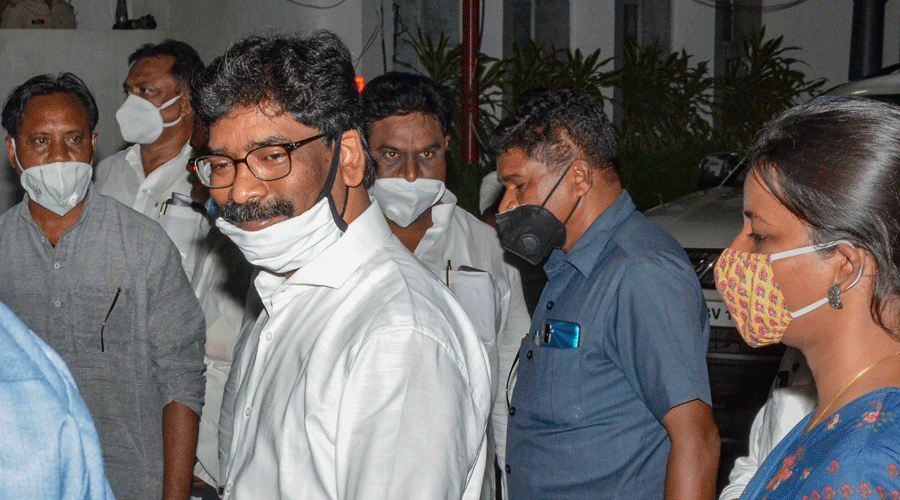 Hemant Soren speaks to media after the cabinet meeting at state secretariat in Ranchi on Wednesday.
PTI
---
Ranchi
|
Published 24.07.20, 03:55 AM
|
---
The decision of the Jharkhand cabinet to approve an ordinance with stringent punishment for violation of preventive measures for Covid-19 has been criticised for its severity.
A cabinet meeting on Wednesday evening approved promulgation of the Jharkhand Contagious Disease Ordinance that has provision for a fine up to Rs 1 lakh and two years' imprisonment for violation of preventive measures, including not wearing masks in public places and illegal assembly.
"It becomes necessary to take some strong decisions sometime," chief minister Hemant Soren told the media after the cabinet meeting, when his attention was drawn to the severity of the punishment.
The opposition BJP wasted no time in criticising the state government.
Terming the cabinet decision as a "Tughlaqi farman" (whimsical decree), state BJP president Deepak Prakash, who took oath as a Rajya Sabha member on Wednesday, said it was "anti-people and anti-poor".
"It's true that people should follow the preventive measures but that doesn't mean they would be terrorised for a single mistake on their part," Prakash said in a statement issued on Thursday afternoon, demanding a review of the provision for punishment and making it practical.
"Jharkhand government should distribute masks free of cost and also immediately refrain from imposing the fine and jail term," C.B. Chaudhary, national treasurer of Samajwadi Jan Parishad, tweeted in Hindi.
"We are well-wishers of the Hemant Soren government and also want people to follow the preventive measures," he told over phone.
This type of huge fine would "just open the floodgates of corruption by encouraging people to prefer out of court settlement through bribery", he added.
Jharkhand on Wednesday reported 439 new cases of Covid-19, taking the total count to 6,682, according to the bulletin issued by the state government. There are 3,570 active cases, while 3,048 people have recovered and 64 have died.
The state cabinet also approved as many as 39 proposals on Wednesday.
It approved re-introduction of the system of awarding three state toppers in the final examinations for Classes X and XII conducted by the Jharkhand board and also the CBSE and the ICSE.
"The three toppers of Class XII will get Rs 3 lakh, Rs 2 lakh, and Rs 1 lakh respectively. In case of Class X toppers, the amount will be Rs 1 lakh, Rs 75,000 and Rs 50,000 respectively," Soren told the media.
The cabinet also approved replacement of the state logo with a new one that would be introduced on August 15.
The new logo has concentric rings around the national emblem containing the people of the state, the state flower palash (butea monosperma) and the state animal elephant.
"The existing logo didn't have anything to represent the state's identity," the chief minister said, justifying the necessity for the new logo.