Covid-19 puts bypolls on backburner
Crisis predicted as terms of elected representatives in Dhanbad, Deoghar expires in mid-June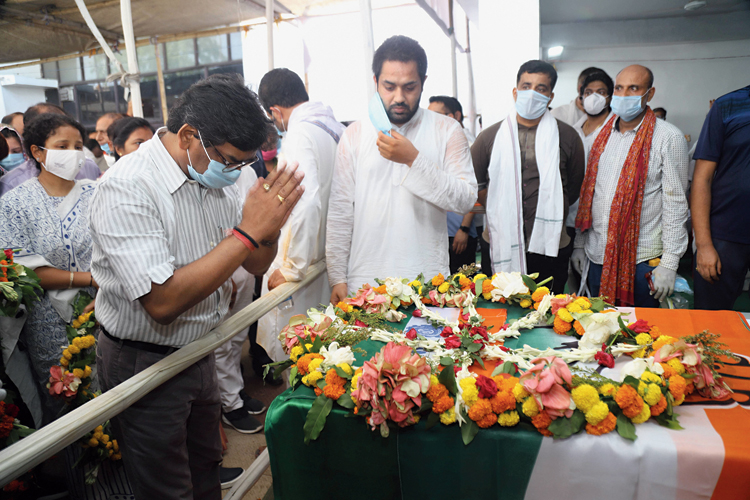 ---
|
Ranchi
|
Published 26.05.20, 09:01 PM
---
The demise of Bermo MLA Rajendra Prasad on Sunday has again raised the question of a bypoll at a time holding elections seems impossible with Covid-19 cases crossing 400 in the state.
The ongoing Covid-19 lockdown has affected two proposed bypolls, the Rajya Sabha election and the election of local bodies in Jharkhand as the government is learnt to have opined that with social distancing being an imperative, elections can only be held when all the 24 districts of Jharkhand turn into green zones.
Currently, the Jharkhand government that has 81 Assembly seats have two vacant seats, Dumka and Bermo.
Chief minister Hemant Soren, who had won the Assembly election from Barhait and Dumka seats, resigned from the Dumka seat on January 6. Under constitutional provisions, the bypoll of a vacant seat has to be held within six months of a winner's resignation. According to this, the by-election for the Dumka seat must be completed by June 6, but that looks unlikely.
The Bermo seat also fell vacant after the sitting Congress MLA Singh died in a Delhi hospital on Sunday.
A highly placed source in the state government said that Dumka and Bermo bypolls would be held at the same time but it was difficult to say when.
"Nobody can say when the bypoll will be held here. It will be very tough to maintain social distancing during election campaigns and polling. Under the prevailing conditions, it is difficult to hold bypolls," said a government official.
Elections of 14 local bodies, including the eight existing municipal bodies and six more newly constituted by the state urban development department, have been deferred. This may cause a crisis as the terms of elected representatives in Dhanbad, Chas, Deoghar and others are set to expire in mid-June and so far there is no clarity on whether their terms can be extended or not.
The Election Commission of India was also forced to postpone the elections for two Rajya Sabha seats in Jharkhand. According to the notification issued by the commission, polling was scheduled on March 26, but as the lockdown had already been clamped, the election was deferred.