Tourists can't see Dalma elephants
Jumbo miss, thanks to virus rampage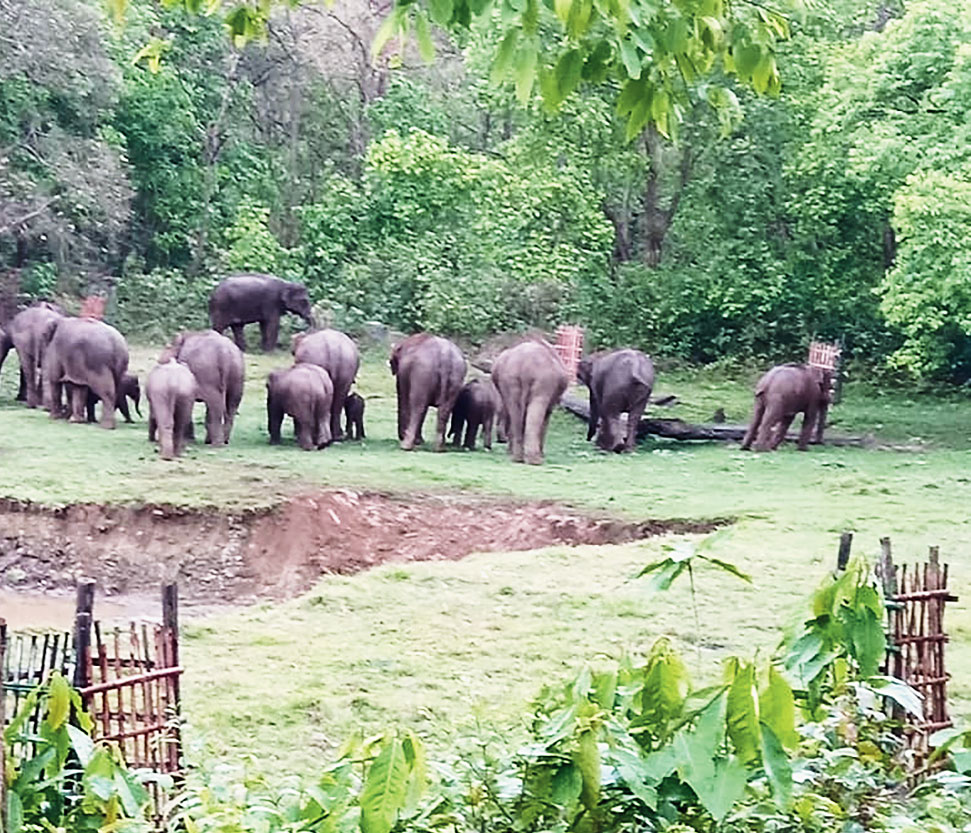 An elephant herd inside Dalma sanctuary on Wednesday.
(Bhola Prasad)
---
Jamshedpur
|
Published 27.05.20, 11:01 PM
|
---
The novel coronavirus-induced lockdown has prevented tourists from sighting elephants at the Dalma Wildlife Sanctuary near the steel city this year.
Traditionally, this is the peak season to spot elephants in and around the sanctuary. In other years, tourists from Jharkhand, Bengal, Odisha and Chhattisgarh come in droves to watch the jumbos, click |pictures and record video clips.
But this year, the 192sqkm sanctuary is deserted as it has been closed for tourists since March, when the nationwide lockdown to slow the spread of Covid-19 was first clamped. Tourists who had booked their accommodation for a getaway were asked to |cancel bookings.
But as many as 65 elephants are scattered in and around the sanctuary, including around 14 |stationed uphill.
The elephants, including calves, have been spotted at Bota, Lailam and Gobarghusi areas of the sanctuary. Some are also seen near the Chandil forest range. The jumbos anchored uphill are seen near watering holes in the afternoon.
The animals also remain playful for most of the time, spray water on each other and also rub each other with mud.
Dalma range officer (west) Dinesh Chandra said the elephants were "a treat to watch".
"Right now, 65 elephants are scattered in and around the sanctuary. Trackers (village youths recruited as daily wagers to keep a tab on the movement of animals) are also keeping a watch on the elephant herds. The elephants are doing fine and are in a good mood," Chandra said.
It is not certain when the sanctuary, known for its flora and fauna and a Shiva Temple on the hilltop, would re-open. "Till then, tourists will have to continue missing the jumbos," Chandra said.