Food cheer for stray dogs in Jamshedpur
The district animal husbandry department has asked animal lovers to contribute dry food that could be fed to the dogs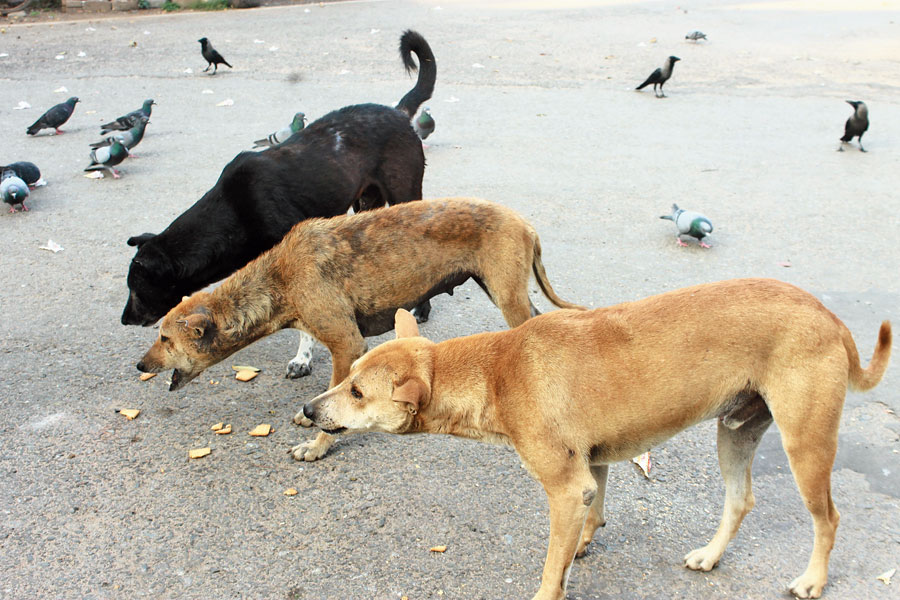 Stray dogs eat biscuits in Sakchi, Jamshedpur.
(Bhola Prasad)
---
Jamshedpur
|
Published 04.04.20, 07:04 PM
|
---
East Singhbhum district administration has started feeding stray dogs across the city.
The initiative has been taken on the directive of deputy commissioner (DC) Ravi Shankar Shukla.
The district animal husbandry department has divided the city into four zones and has asked for food donation for distribution among the stray animals who used to survive on leftovers from roadside eateries and pushcarts and are forced to go hungry after the lockdown.
Three officials of the department have started distributing food in different areas of the city between 6pm and 10pm every day.
Some residents of Burmamines are contributing rotis daily. "We collect around 300-350 rotis from the Burmamines gurdwara, which is our pick-up point. People come and give us the rotis there. This was an important step as many animals were starving after the lockdown," district animal husbandry officer Manoj Kumar said.
The department has asked animal lovers to contribute dry food that could be fed to the dogs. The district agriculture department and the dairy officer have been entrusted with the task of feeding stray cows and bulls.
"We prefer rotis, biscuits and other dry items that can be easily carried and are not messy. We will be happy to pick them up from a given point. For many, roaming around and feeding the strays is a problem during the lockdown," Kumar added.
Although many social workers and animal lover groups are trying their best to feed the strays near their respective areas, the new initiative by the district administration is being appreciated.
Members of three families in Burmamines, who had been contributing 350 rotis every day, said they had voluntarily contributed to the cause.
"We make 100 rotis daily. The women members of the families are happy making them because they feel animals who don't have a voice should be taken care of as well," Satbir Singh, one of the contributors, said.