28 migrant workers flee Giridih quarantine centre after drunk man attacks them at night
FIR against Sonu Singh, many of the 28 labourers who returned from Surat last week are injured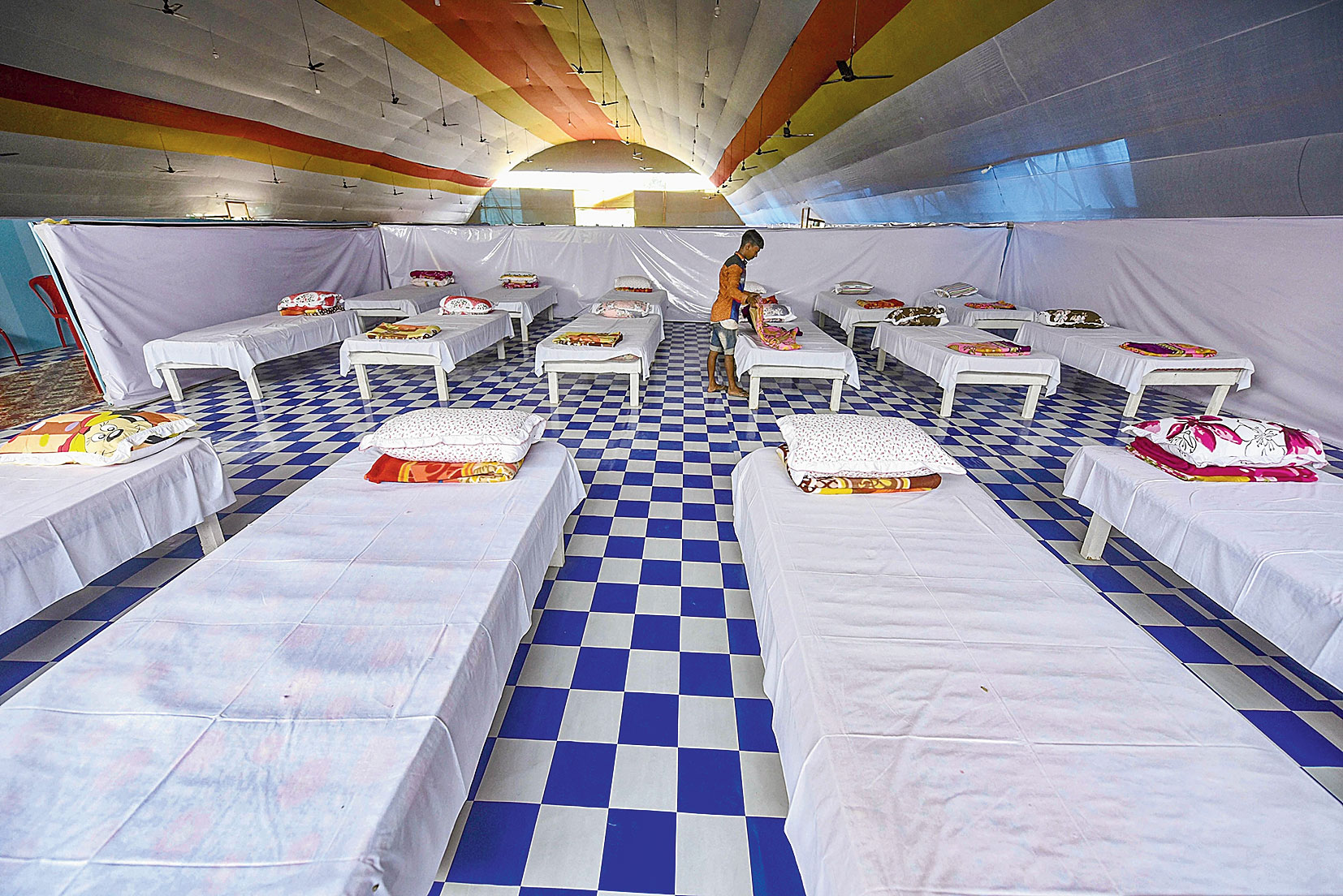 ---
|
Bokaro
|
Published 21.05.20, 04:40 PM
---
As many as 28 migrant workers fled from school they were quarantined in after they were attacked by a group of drunk men late on Wednesday, local residents attributing the assault to the opening of liquor shops in Giridih the same day.
Some of the 28 workers sustained minor injuries, but none of them, it seems, want to return to the Barkatta High School, out of fear, police sources claimed, opening up a peculiar challenge for the district administration struggling to enforce a lockdown to curb the spread of the coronavirus.
It was not clear if there was any immediate provocation for the attack. Based on the complaint of one of the workers, Nuneshwar Pandit, Birni police have launched an FIR against the apparent leader of the group, Sonu Singh, and four others, referring to them as "unknowns".
Officer in-charge of Birni police station Suresh Mandal said by the time police team reached the government school, Sonu had fled.
"He created a ruckus in an inebriated state. Some of the workers suffered minor injuries after being beaten by Sonu. We tried to bring them back, but workers refused to return," Mandal said.
Giridih district health department had quarantined all the 28 migrant workers at the school after they arrived by train from Surat last week as per the Centre's regulations in view of the Covid-19 pandemic.
"Sonu, who is the son of one Mohan Singh of Baidapahari, is absconding. An FIR has been lodged against Sonu under various sections of IPC. Police are conducting a search operation to nab him," said SDPO Saria-Bagodar Binod Mahto.
He said all efforts by police bring the migrant workers back to the quarantine centre failed. "They said they feared another assault," Mahto added.
Police sources said the Sonu and his men attacked the workers when there was no power in the school. Complainant Pandit said they were sleeping in the balcony when Sonu appeared suddenly.
He had a stick in his hand and immediately started beating them up mercilessly. "He was drunk. To save ourselves, we all ran out of the school and informed police and our families," Pandit said.
Ramchandra, another migrant labourer who was also hurt in the attack, said Sonu started beating up whoever was in front of him. "Four others were with him, but they were standing outside the school. We can't identify them as it was too dark," he said.
"He was totally drunk and kept asking who had given permission for us to sleep in the school. It seemed he did not even know what he was doing" Ramchandra added.
One thing was clear though, none of the 28 migrant workers would return to the school to complete their stay in quarantine. It remains to be seen how the district health department is able to keep a tab on them.