Congress hits BJP where it hurts
Jyotiraditya Scindia asks how GDP growth fall and development can go hand in hand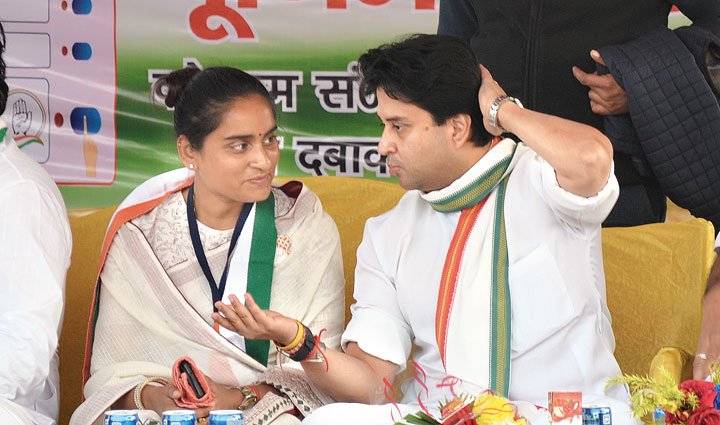 Jyotiraditya Scindia speaks with Jharia Congress candidate Purnima Singh during the election rally at Jealgora in Dhanbad's Jharia on Tuesday.
Picture by Shabbir Hussain
---
Dhanbad
|
Published 10.12.19, 07:32 PM
|
---
Former Union minister Jyotiraditya Scindia during a Congress rally in Jharia on Tuesday asked the BJP how GDP growth fall and development can go hand in hand.
The former Union minister of state for communications and information technology and also the general secretary of All India Congress Committee (AICC) for Uttar Pradesh (West) was in Jharia to address a public rally in support of local Congress candidate Purnima Singh, wife of former deputy mayor Niraj Singh, who was killed by a hail of bullets on March 21, 2017.
"Ek taraf ye vikash ki baat kar rahe hain aur dusri taraf sakal gharelu utpad ka dar ghat raha hai (On one hand they are talking about development and on the other hand the Gross Domestic Product rate is decreasing day by day)," said Scindia.
He added: "GDP ka dar to nahi badh raha hain lekin diesel, petrol, aur ab to pyanz ka daam bhi badh raha hai (The GDP rate is not increasing but prices of petrol, diesel, pulses and now even the onion are increasing."
Addressing a gathering of around 8,000 people at Jealgora ground of Jharia in Dhanbad in the presence of AICC Jharkhand in-charge RPN Singh, district Congress president Brajendra Prasad Singh, and Purnima, Scindia in his 18-minute speech used Hindi proverbs and metaphors to ridicule the BJP government.
"Ek purani kahawat hai, marj badhta gaya, marj badhta gaya, jyon jyon dawa ki (the ailment started worsening as medicines were introduced)," he said, taking a dig at the failure of the government to control the falling rate of GDP.
On development statistics oft-quoted by BJP leaders, Scindia said: "Tumhari fileon me gaon ka mausam gulabi hai, tumhari fileon me gaon ka mausam gulabi hai, lekin yeh aankden farzi hain, ye dawa kitabi hai (In your files the atmosphere of the village is pleasant, but your statistics are fake and your claims are bookish)."
Shifting the focus on the state government and lack of job opportunities in Jharkhand, Scindia said: "They have misled people in the name of achche din (good days) but the Jharkhand Public Service Commission (JPSC) and Jharkhand Staff Selection Commission (JSSC) have failed to provide jobs to a single person in the last five years. In fact the poor have become poorer."
He said: "The Jharia town is endowed with huge coal reserves where people from outside came and left after minting money but the natives are compelled to live the life of penury because of wrong policies of the government which promotes looters."
Trying to garner support from the gathering on the condition of the poor, he asked: "They (the BJP) are claiming they have provided more than Rs 33,000 crore to the people but has a penny of this fund reached the labourers working tirelessly? While the BJP government is concerned with the interest of selected capitalists, the Congress government used to frame policies for farmers and the downtrodden section of society. The support price of foodgrains used to increase during our (the Congress) times by 19 percent, while the support price is increasing by 3.5 percent during the present BJP rule."