Colour code for Soren swearing-in
Vehicle-parking passes in Morabadi grounds to be of 4 colours—white, yellow, blue and green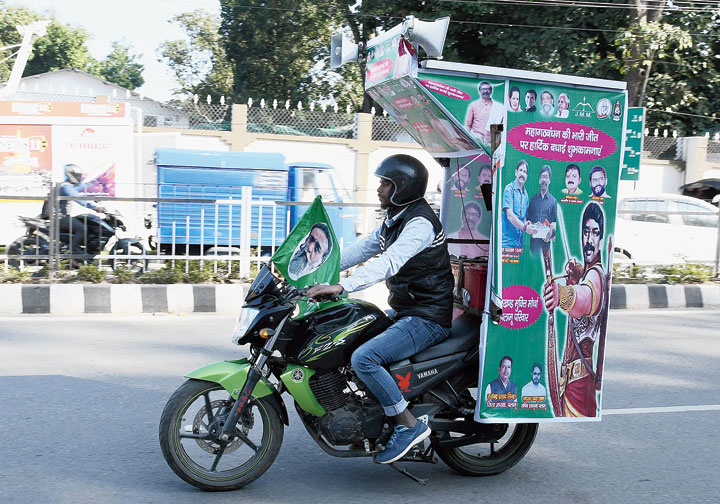 A JMM worker rides a bike with party banners on Kanke Road in Ranchi on Saturday.
Picture by Prashant Mitra
---
Ranchi
|
Published 28.12.19, 09:56 PM
|
---
As preparations for Hemant Soren's swearing-in at Morabadi grounds on Sunday were on in full swing in the capital on Saturday, the colours chosen for vehicle-parking passes sparked chatter.
Passes of four colours —white, yellow, blue and green — were issued, the arrangement aimed at helping commuters and pedestrians.
Missing from the list of colours was saffron.
White passes were issued to "VIP and VVIP" vehicles, which will be parked behind the main stage where the swearing-in will take place.
Vehicles with white passes will reach there via ATI Mor, Sidho Kanho Mor, Ranchi College and state guesthouse.
The route used for vehicles with white passes will be properly sanitised.
Yellow passes were issued to administrative officers.
Vehicles with yellow passes will be parked on the western side of stage, that one can reach via the Ranchi senior superintendent of police's residence and the road connecting it with Morabadi.
Vehicles with blue passes will be parked on the police outpost campus at Morabadi and the open space beside army ground, where one can reach via the same route specified for vehicles with yellow passes.
Vehicles with green passes will be parked near the Tribal Museum and the northern side of army grounds.
One can reach there via Karam Toli Chowk and the road linking Morabadi with Karam Toli Chowk.
Entrance has been specified according to passes. Gate 1 to reach venue on wheels is meant for those with white and yellow passes. Gate 2 is for those with blue passes, 3 is for those with green passes.
Apart from this, the roundabout near Morabadi ground will be manned by traffic personnel to ensure that movement of people not participating in the swearing-in does not get disturbed and traffic can be diverted according to the need at the time.