Coal town hacks green for more cars
Thousands of trees felled to widen roads, replacement lags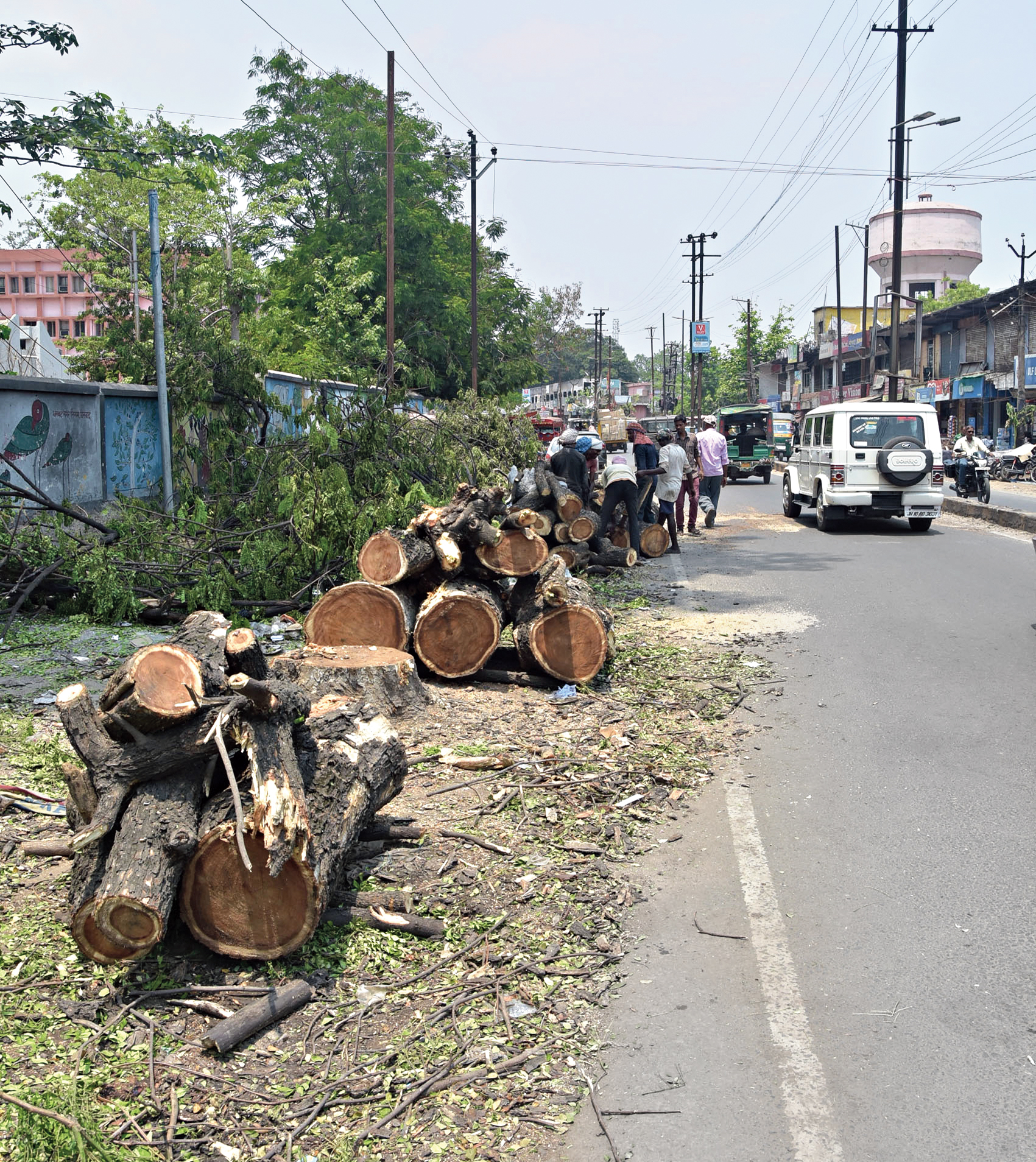 Chopped trees strewn along the road near Hatia Mor in Dhanbad last week.
Picture by Gautam Dey
---
Dhanbad
|
Published 02.06.19, 08:08 PM
|
---
Thousands of trees have been felled for widening Dhanbad's roads in a classic case of development clashing with the environment, and work on planting trees as replacement has been lagging.
Sample this: 2,063 trees have been chopped for the ongoing work of making the 32.75km Govindpur-Mahuda road a four-lane one. A total of 3,142 trees will be felled by the time the Rs 180-crore state highway authority project, which began in September 2017 and is being executed by Ranchi-based Ram Kripal Singh Construction Pvt Ltd, is completed.
Around 5,088 trees are to be felled to make the 20km stretch from Kako Math in Katras to the Gol Building in Dhanbad an eight-lane one. Work on the Rs 416-crore, World Bunk-funded state highway authority project began this week.
Earlier, in 2017-18, around 54 trees were chopped for the broadening of the 25.71km road from Bank Mor to Sindri. Balkrishna Bhalotia Construction Pvt Ltd executed the Rs 44.83-crore project for the road construction department. The department was to plant 540 trees as replacement, but not a single sapling has been planted even after more than a year after completion of the project.
Similarly, not one of the 1,100 plants that were to replace the 417 trees felled for the Rs 34.67-crore widening of the 5.5km City Centre to Barwadda road has yet been planted.
"The town has been stripped of its greenery in the name of broadening roads," rued Rajiv Sharma, secretary, Jharkhand Industries and Trade Association, who is also a member of the district-level committee of the state pollution control board.
In a study published in the journal Nature Climate Change in May 2017, researchers had found what they called "urban heat island effect," which occurs when heat-trapping concrete and tarred roads replace natural vegetation and water. Heat, trapped by tarred roads and dense clusters of buildings, may have added nearly 2 degrees to temperatures in the world's most populated cities, including Calcutta, Delhi and Mumbai, over and above the effects of global warming, the researchers had said.
"Large-scale cutting of trees leads to increase in temperature, reduction in oxygen level, depletion of groundwater level and increase in air pollution, especially suspended particulate matter — which leads to health hazards," pointed out Ranchi-based environmentalist Nitish Priyadarshi.
Abhishek Kumar, divisional forest officer, Jamshedpur, explained that for projects such as roads, highways, railway tracks and dams, as per a high court order, a high-powered committee decides the number of trees to be planted. It can be up to 10 times the number of trees felled.
Sharma said that the Dhanbad Municipal Corporation and the agencies working on the roads "should take immediate steps to plant the adequate number of plants in lieu of plants felled".
Contacted, Dhanbad forest officer Vijay Kumar Lakra said: "We are continuously monitoring the tree-felling and instructions have been given to the road construction department to plant the adequate number of trees for all roads where broadening work is going on.
"Due to some technical reasons, like delay in arrival of funds, the planting of trees could not take place in case of Bank Mor-Sindri road and the City Centre-Barwadda road. But tree-planting work in case of the Govindpur-Mahuda road is set to begin soon as talks with the contractor for the work is in progress," he added.
Satyendra Narayan Singh, the engineer looking after the Govindpur-Mahuda road work, the high-powered committee has instructed to plant around 6,248 saplings. "We will also transplant around 327 trees from one place to another along the road," he added.