Coal PSU told to cut down pollution by 20%
State pollution board has asked BCCL to work out a detailed and comprehensive action plan to reduce air pollution level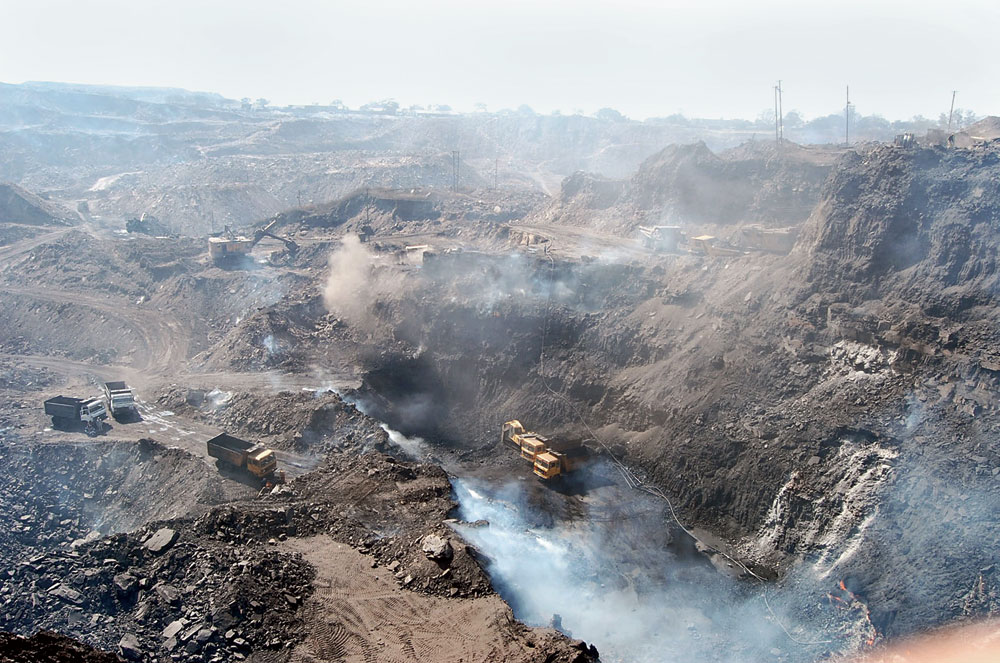 Smoke and dust emanate from BCCL's Rajapur Colliery in Dhanbad on Tuesday
Picture by Gautam Dey
---
Ranchi
|
Published 11.06.19, 07:02 PM
|
---
The state pollution board has asked Bharat Coking Coal (BCCL) to work out a detailed and comprehensive action plan to bring down air pollution levels of Dhanbad, the ninth most polluted town of the country, by at least 20 per cent over the next two years.
At a meeting held at Nepal House in Ranchi on Tuesday, Jhakhand State Pollution Control Board (JSPCB) told BCCL, a subsidiary of Coal India (CIL) with 60 active mines spread across 12 zones of Dhanbad, to take certain immediate anti-pollution measures like ensuring that coal was no longer transported in open vehicles, water sprinklers were installed in collieries and other parts of the district.
The directives, all according to the Union ministry of environment and forest's consent to operate (CTO) provided to the PSU to run mines in 17 clusters, were issued at the meeting presided over by JSPCB chairman A.K. Rastogi and attended by senior BCCL officials, including CMD Shekhar Sharan, Federation of Dhanbad Zila Chamber of Commerce and Industry members and environment activists, including Manoj Singh of Jharia.
"BCCL has also been instructed to carry out tree plantation on 50 hectares over a period of two years," said JSPCB member Rajiv Sharma, adding that the meeting was held in a cordial atmosphere with BCCL accepting the need for immediate intervention to clean up Dhanbad's air.
According to a Green Peace India report of 2017, released on January 29 this year, Jharia is the most polluted town of India among 313 town and cities with PM10 levels at 295 microgram per cubic meter. Dhanbad, with PM10 levels at 238 microgram per cubic meter, is the ninth most polluted town, while Sindri, with PM10 levels of 158 microgram per cubic meter, was ranked 37.
"BCCL officials also agreed to provide necessary infrastructure to help each household of Dhanbad to plant at least one tree in the neighbourhood," Sharma said.
JSPCB, he explained, had also informed BCCL that it would impose fines ranging from Rs 30,000 to Rs 60,000 per day at mining areas of BCCL if steps were not taken to adhere to the CTO directives.
"Soon, JSPCB will be providing Dhanbad two mobile dust collectors each procured at a cost of Rs 1 crore with funds provided by the Centre under the National Clean Air Programme. BCCL has been also asked to procure at least three dust collector machines," Sharma said.
The JSPC member said BCCL had agreed to install sprinklers at six worst-affected areas of the district even though these did not fall in colliery areas. "For instance, sprinklers will be set up at Indra Chowk of Jharia that is impacted by transportation of coal," Sharma said.
Jharia environmentalist Manoj Singh, who was also present at the meeting, said they raised the issue of tree felling. "BCCL, on its part, provided details of tree plantation drives it had carried out in various mining sites," he said.