Coal labourers clash at Kusunda area, 6 injured
BCCL suspends loading operations at Vishwakarma pending talks OUR CORRESPONDENT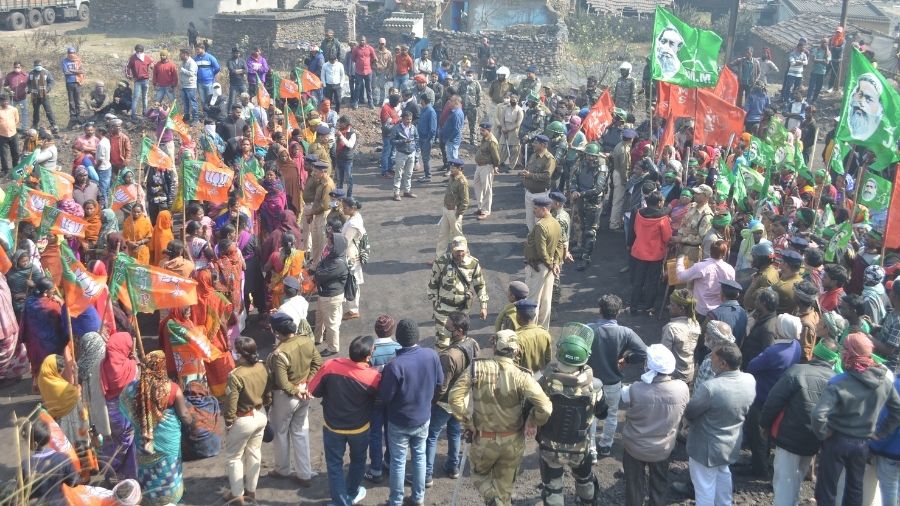 Coal labourers, backed by rival political parties, come fact-to-face before the clash at Vishwakarma Project site in the Kusunda area in Dhanbad on Thursday.
Picture by Shabbir Hussain
---
Dhanbad
|
Published 28.01.21, 08:02 PM
|
---
At least six workers were injured when two rival groups of coal loaders clashed at the Vishwakarma Project site of Kusunda area, hurling stones and wielding sticks in the presence of police on Wednesday.
Two of those injured at the BCCL project site, Sampurna Devi and Lakshmi Devi, had to be admitted to a private hospital for treatment.
The clash lasted half an hour. Finally, the police were able to control the crowds after a lathi-charge. Windscreens of two vehicles, a tipper and a truck, were broken.
On the prodding of Dhanbad administration and police, Bharat Coking Coal (BCCL) management agreed to suspend coal loading work for the time being. Officials of the PSU said loading operations would be resumed after holding talks with the rival groups to try and find an amicable solution. While one group of coal loaders is being backed by the Marxist Coordination Committee (MCC) and Jharkhand Mukti Morcha (JMM), the other is supported by the BJP.
BJP leader Amrendra "Guddu" Singh said, "We are not averse to coal loading by local residents. But only genuine local residents should be given the opportunity. As agreed earlier during a meeting under the chairmanship of Dhanbad SDO Surendra Prasad, labourers should deposit their Aadhar cards to verify their credentials."
Singh blamed the BCCL management, saying its officials had allowed coal loading without following due procedure leading to the tension.
Local resident Dharm Kumar Roy blamed Singh and his men for the trouble.
"We have been loading coal from the very start of the Vishwakarma Project. But due to the disturbance caused by muscleman backed by Singh manual coal loading operations have been suspended since January 2018 creating a problem of livelihood for us," he said.
Dhansar police station OC Jaiprakash Rai, who was present at the site, denied they had resorted to lathi-charge or firing. "The two labourer factions congregated at the site demanding work. But we managed to remove men and women of both factions. On our suggestion, BCCL has agreed to hold talks with the factions before resuming loading operations," he said.