Coal crisis: Railway cancels 170 trains on Saturday
197 trains were cancelled on Friday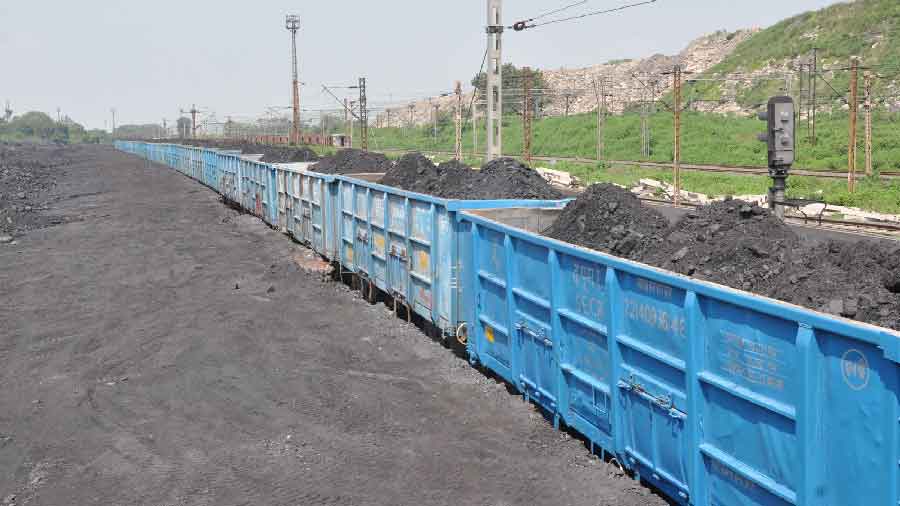 Coal loaded railway wagons in Dhanbad
Gautam Dey
---
Dhanbad
|
Published 30.04.22, 02:42 PM
|
---
Amidst the coal crisis being faced by various coal based thermal power plants across the country Indian Railway has cancelled many passenger and parcel trains to facilitate increased supply of coal to power plants. As per the official website of Indian Railway Catering and Corporation Ltd, altogether 164 trains were cancelled on April 29 while 33 other trains have been partially cancelled.
Not only this but the website further mentions that altogether 170 trains will remain cancelled on Saturday out of which 146 trains will remain fully cancelled while 24 will remain partially cancelled.   
The fully cancelled trains for today included, Vasai Road Madgaon Special Fare Special (00111), Dildarnagar Pt DD Upadhyay Jn Exp Spl (03641), Shri Ganganagar Bhatinda Passenger Spl (04567),  Radhikapur Siliguri DEMU special  (07507), Vijayputa Hubbali Intercity Express Spl (07330), Raipur Dongargarh MEMU Special (08705), Raigarh Bilaspur MEMU Special (08737), Sabarmati Jodhpur Express (14822), Dadar Central SSS Hubbali Express (17318) and Rajyarani Express (22453) etc.
The partially cancelled trains for today on the other hand included, Gomoh Sindri Town Express Special (03328), Jhajha Asansol MEMU Passenger Spl (03676), Somnath Ahmedabad Intercity Express (19120), Moradabad Kathgodam Special Express (05332) and others.
Though, IRCT website didn't ascribe any specific reason for the cancellation of trains and instead claimed "several train cancellation were announced by railways due to various reasons" but sources in Railway said that the cancellations have been carried out to facilitate increased supply of coal to power plants.
Talking to The Telegraph Online, Chief Public Relation Officer of  East Central Railway, Hajipur; Birendra Kumar said, "Though we have not received any information about the cancellation of train in our zone so far and thus can't attribute any reason for the cancellation of trains but we are taking all possible steps to increase the coal transportation  to thermal power plants for which round the clock monitoring on all aspects of transporting is being carried out."
Echoing sentiments, Senior Divisional Commercial Manager of Dhanbad, Akhilesh Pandey said, "We are taking all steps to ensure hurdle free transport of coal in our division as per the standing instruction and accordingly speedy box maintenance as well as RS and QS maintenance is being ensured."
When asked whether the coal transport has increased through Railway, Pandey said "the coal transport  through our division is almost at the same level this month as during the last month of March"