Cloud cover leads to warmer nights
The weather was expected to improve and the crisp northwesterly wind would start flowing around January 11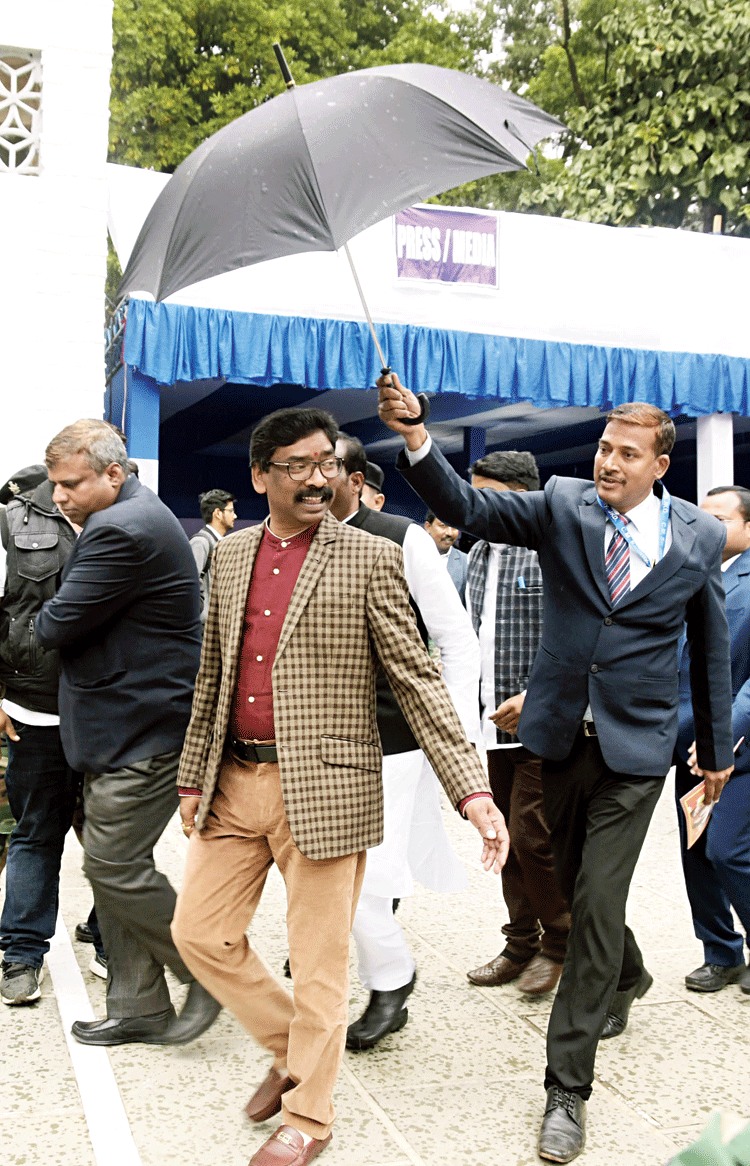 Security personnel shield CM Hemant Soren from rain before entering the Assembly in Ranchi on Wednesday.
(Prashant Mitra)
---
Jamshedpur
|
Published 08.01.20, 09:07 PM
|
---
An induced cyclonic circulation over southwest Rajasthan and another one over northwest Madhya Pradesh have impacted Jharkhand's weather resulting in cloudy condition and moisture incursion into the atmosphere.
Weathermen said the circulations coupled with the effect of a Western Disturbance in the northern part of the country resulted in an adverse weather in the state.
" The twin cyclonic circulations were resulting in heavy moisture incursion into the lower levels of the atmosphere. The condition also resulted in an abrupt rise in minimum temperatures and drop in day readings," said S.D. Kotal, director of Ranchi Meteorological Centre.
According to him, the circulations were extending 1.5km above mean sea-level . "The cloud cover will continue to prevail for another 48 hours or so. We are also expecting light showers tonight (Wednesday) and tomorrow in several parts of the state, " Kotal said.
He said the weather was expected to improve and the crisp northwesterly wind would start flowing around January 11.
Southerly wind pattern was currently prevailing over Jharkhand, resulting in moisture incursion from Bay of Bengal and Arabian Sea.
Jamshedpur recorded a minimum temperature of 11.8°C on Wednesday against 9.9°C on Tuesday while Ranchi recorded 9.2°C against 8.6°C the previous day.