CIMFR initiates a jewellery-making project with CSIR
Through this venture they are aiming to train people living in colliery areas to design accessories from coal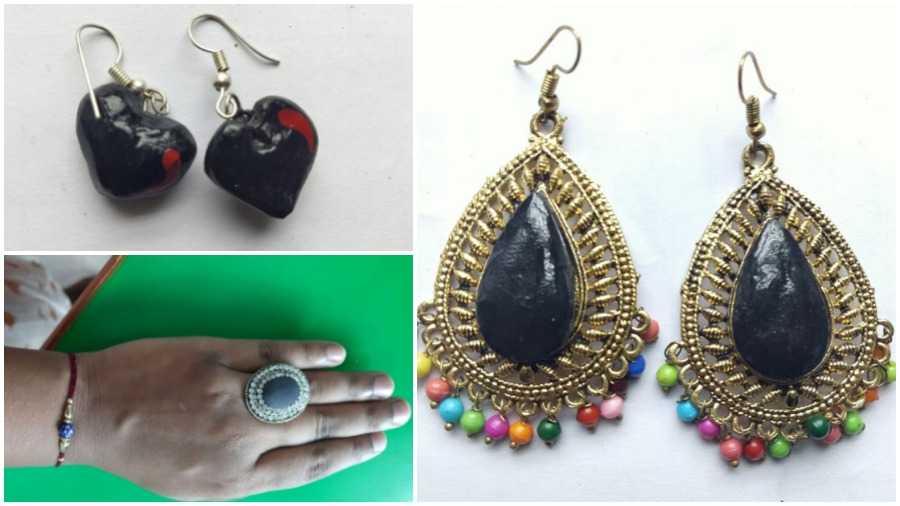 Few jewellery items designed using coal
Gautam Dey
---
Dhanbad
|
Published 01.12.21, 08:36 PM
|
---
With the objective of providing sustainable source of income to people living in and around colliery areas by imparting them necessary skills of producing jewelleries of coal, through value addition of waste coal available in abundance at Jharkhand, Dhanbad based Central institute of Mining and Fuel Research (CIMFR), a premiere research laboratory of Council of Scientific and Industrial Research (CSIR) is working on a project to develop jewellery from coal.
Initial training of a group of local residents has already been conducted in this regard by the Renewable Energy and Biotechnology section of the institute led by its principal scientist, Dr Vatrivel A Selvi, who is also the project leader.
Talking to the Telegraph Online, Selvi said, "Many people prefer ethnic and black colour jewelleries and we need to just carry out a value addition by ensuring shining and polishing of waste coal to mould it into the shape of jewelleries like necklace, pendant as abundant amount of coal is otherwise of no use in the mining areas  and also creates the problem of solid waste management, if lying unutilized."
Elaborating more over the project, Selvi said, "The two-year project funded by Central Institute of Mining and Fuel Research is aimed at proving a permanent source of income to large number of farmers living in the mining areas by providing training to them as farming is not done around the year work and requires full time involvement for only three months while for the rest of the year the farmers remain idle." "People in hinterland of Jharkhand are very skilled in tribal art which is quite unique, so under the project they will be utilizing their artistic skills on waste coal by polishing and refining it to make beautiful jewellery which will have ethnic look," said Selvi, a resident of Tamil Nadu and added that the idea of initiating jewellery making project from coal came into her mind last year while visiting a mine where she saw huge amount of waste coal lying unutilized.
"Coal usually is used as fuel due to its combustion property and recently its other usage like liquefaction and  gasification has also started but under the present project we are carrying out value addition of coal by its processing which includes its hardening, moulding, shining etc," said Selvi and added that  more rounds of training are also to be carried out under the project but due to guidelines they could not hold more round for training for the beneficiary common people of the  project.
Notably, the processing of coal for production of jewellery involves holding pieces of coal and coal dust together through a binder and thus after production the jewellery can be sold at Rs 500 per gram.  The coal jewellery besides being durable and light are also lightweight. The marketing of coal made jewelleries will be carried out through CIMFR's e Portal, Gramin Market
PK Singh, director of Central Institute of Mining and Fuel Research said, "The project, besides ensuring innovative utilization of coal, will also ensure sustainable source of employment for the local people of mining areas."