CII-Jharkhand holds manufacturing conclave on automation
Delegates raise awareness on importance of digital techniques during the pandemic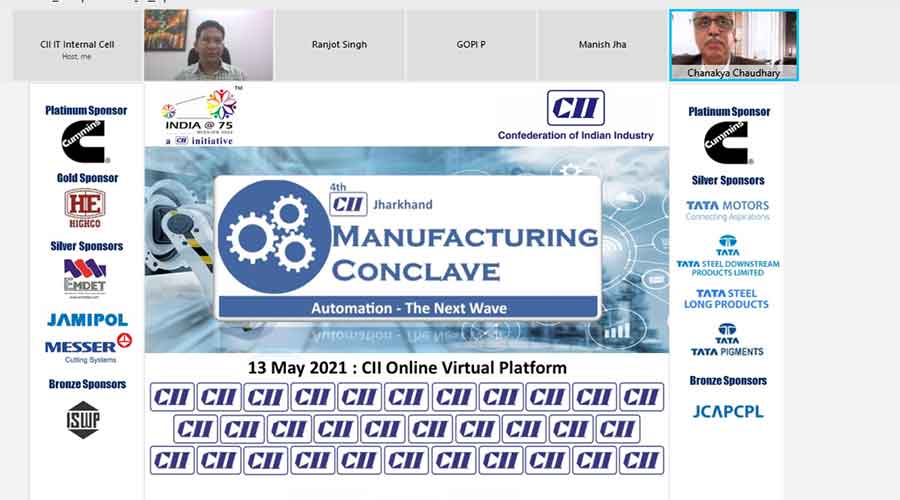 Screen shot of the online conclave.
The Telegraph Picture
---
Jamshedpur
|
Published 13.05.21, 07:50 PM
|
---
CII Jharkhand organised its fourth edition of manufacturing conclave on Thursday with the theme as Automation – The Next Wave.
The conclave deliberated on the best practices in manufacturing automation and also discussed the latest trends that are available in the industry to enable manufacturing excellence. 
More than 120 industry delegates from the manufacturing sector participated in the conclave.
Addressing the virtual conclave, Chanakya Chaudhary, chairman of CII Jharkhand State Council and also vice- president Corporate Services of Tata Steel, stated that manufacturing is the engine for India's economic growth and needs to continue playing its pivotal role especially at these tough times during the pandemic. 
"In the wake of the Covid-19 pandemic, manufacturing is putting a renewed focus on digital transformation initiatives. Many manufacturers are already leveraging components of a smart factory in such areas as advanced planning and scheduling using real-time production and inventory data, or augmented reality for maintenance. Automation in the manufacturing industry has been extensively achieved through the use of robots and Computer Numerically Controlled (CNC) systems. With the changing scenario in the manufacturing sphere globally, the Indian manufacturing units need to adjust and adapt to the latest technology in order to stay ahead in the competition," he said.
Tapas Sahu, chairman, CII Jamshedpur Zonal Council and managing director, Highco Engineers Pvt Ltd pointed out that industry requires more support from the government not only in terms of improved business environment where some progress has been made, but also in the form of lower cost of doing business where much needs to be done. 
"As we are struggling to contain Covid, we have the responsibility to reshape businesses and lead the country on the growth trajectory. With the extensive use of technology, Indian manufacturers can not only meet international quality benchmarks but also strengthen their position as competent suppliers for the global market. The digitalisation of the manufacturing industry is crucial not only to boost domestic revenue and the country's GDP but also to drive significant growth in job creation," he observed.
Manish K. Jha, chairman, CII Jamshedpur Zonal Council , Ranjot Singh, vice- chairman, CII Jamshedpur Zonal Council and Vishal Badshah, convenor, CII Jharkhand Manufacturing and Engineering Panel and Plant Head of Tata Motors also addressed the conclave.