Check dams to protect villagers from tuskers
A large check dam has already been constructed recently in Rishibhita village of Tundi while four others are in the process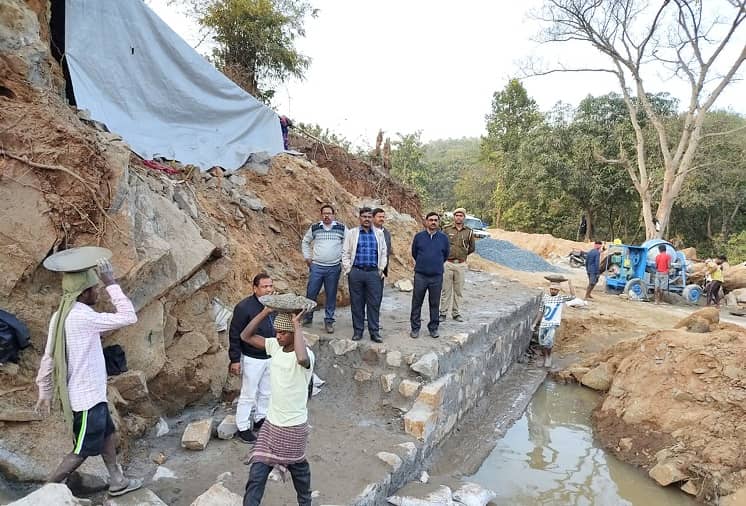 Officials inspect construction of one check dams in Tundi
Gautam Dey
---
Dhanbad
|
Published 16.11.21, 04:38 PM
|
---
In a bid to restrict movement of tuskers in deep forests, the Dhanbad forest division has embarked on a mission to construct check dams within the Tundi Pahar. The idea is to create a space for ample water sources as well as lush green vegetation within the forests to avert any danger emanating from tuskers.
A large check dam of the dimension of 100x60 feet has already been constructed recently in Rishibhita village of Tundi while four other dams at the cumulative cost of Rs 2 crore are in the process at Dongapani, Biranchi, Khario and Hathitand village of Tundi Pahar falling in the migratory route of pachyderm between Sahibganj, Godda, Jamtara, Giridih, Dumka, Dhanbad, Koderma, Hazaribagh and others.
Talking to The Telegraph Online today, Bimal Lakra, Divisional Forest Officer of Dhanbad said, "Though, by nature the tuskers are migratory and their movement can't be restricted to a particular place, we can curb it in dense forests through ample water source within the forests itself and also lush green vegetation that they require for their survival. We build at least ten check dams every year in the deep forest areas to generate source of water for the wildlife."
And he added that the elephants which are part of the herd generally remain calm. "We can't predict the movement of single or strayed elephants which can get aggressive. So, we appeal to people in adjoining villages near the dense forests to avoid venturing out alone and also avoid stocking of Mahua in the houses," Lakra added.
Tundi forest ranger, Vinod Kumar Thakur said, "The movement of elephants in the surrounding villages has been reduced following the construction of dams in Rishibhita village." He also mentioned that tuskers generally avoid coming out of deep forests and only move to villages seeking food or water or also during migration from one area to the other in villages falling on fringes of forests.
Notably on October 17, a single elephant strayed from a herd and attacked a 65 year-old-woman of the Khatjori village during the wee hours when she went out to relieve herself. Her right arm had to be amputated.