CBSE puts regular classes on creative learning curve
Painting, music, dance & theatre to liven up subjects from this academic year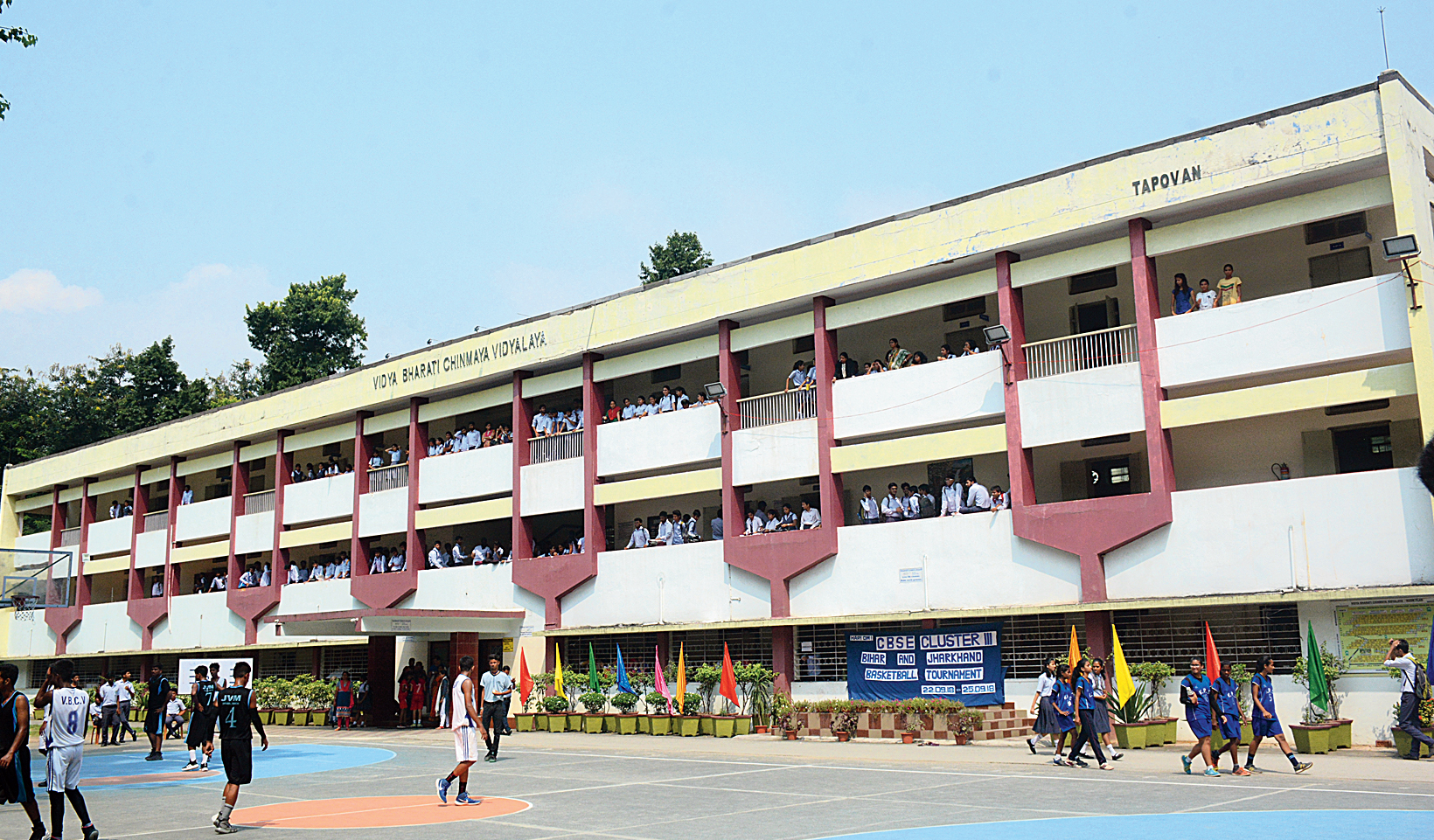 Vidya Bharati Chinmaya Vidyalaya, a CBSE school in Jamshedpur
The Telegraph picture
---
Ranchi/Jamshedpur
|
Published 12.04.19, 06:44 PM
|
---
Salsa in a maths class? Puppetry to learn names of genus and species easier in a biology class?
The CBSE in a recent circular has directed all schools to integrate the arts — music, dance, visual arts and theatre — with learning to make studies creative and out-of-the-box.
Schools starting from 2019-20 academic session will have to introduce this new pedagogy in teaching from Classes I to XII. Though visual and performing arts as a curricular activity has been a tradition in CBSE schools, infusing it regular subjects will be a new thing for schools that principals seem excited about but want proper guidelines for implementation.
Principals also felt that the new system would have a positive impact on the development of certain life skills in children such as communication, reflection and enquiry, higher confidence levels and appreciation for aesthetics and creativity.
Paramita Saha, principal of the CBSE-affiliated Loyola Convent School of Booty in Ranchi, said CBSE schools already had arts subjects but restricted to Class VIII.
"Including the arts, visual, music, dance and theatre, will definitely make the learning process more interesting for today's children and broaden their horizons. This is also because we are at a juncture when there is too much of academic pressure on students. This is a great step but I hope the board guides us on implementation," she said.
Saha added two periods per week as suggested by the council would be more than necessary but schools would have to see how the system ultimately turns out to be.
Jamshedpur Public School principal Namita Agarwal said this was a wonderful idea to boost creative thinking in teachers and students. "This will make studies more interesting than ever. Also teachers at times are very innovative but cannot implement their ideas in the teaching method. This can be wonderful for them. For us, it won't be a major problem but first we have to go through guidelines," said Agarwal.
Students of Classes VI, VII and VIII will also have to learn culinary arts to help them value nutritious food, learn about crops and spices grown in India, processes of oil extraction from various kinds of seeds and their benefits and good agricultural practices.
A parent, when told about the new CBSE directive, welcomed the move. "What could be better if children are taught in ways that they love? If they can paint or dance or sing as part of learning, I believe they will learn and retain more. I don't know how it will all finally pan out but it does sound exciting," said engineer J. Vinayak, whose son Om Prakash studies at DAV Public School, Bistupur.