Budget blow for big hopes in Ranchi
There were hope of a big bang Budget, but what finance minister Nirmala Sitharaman delivered left many scratching their heads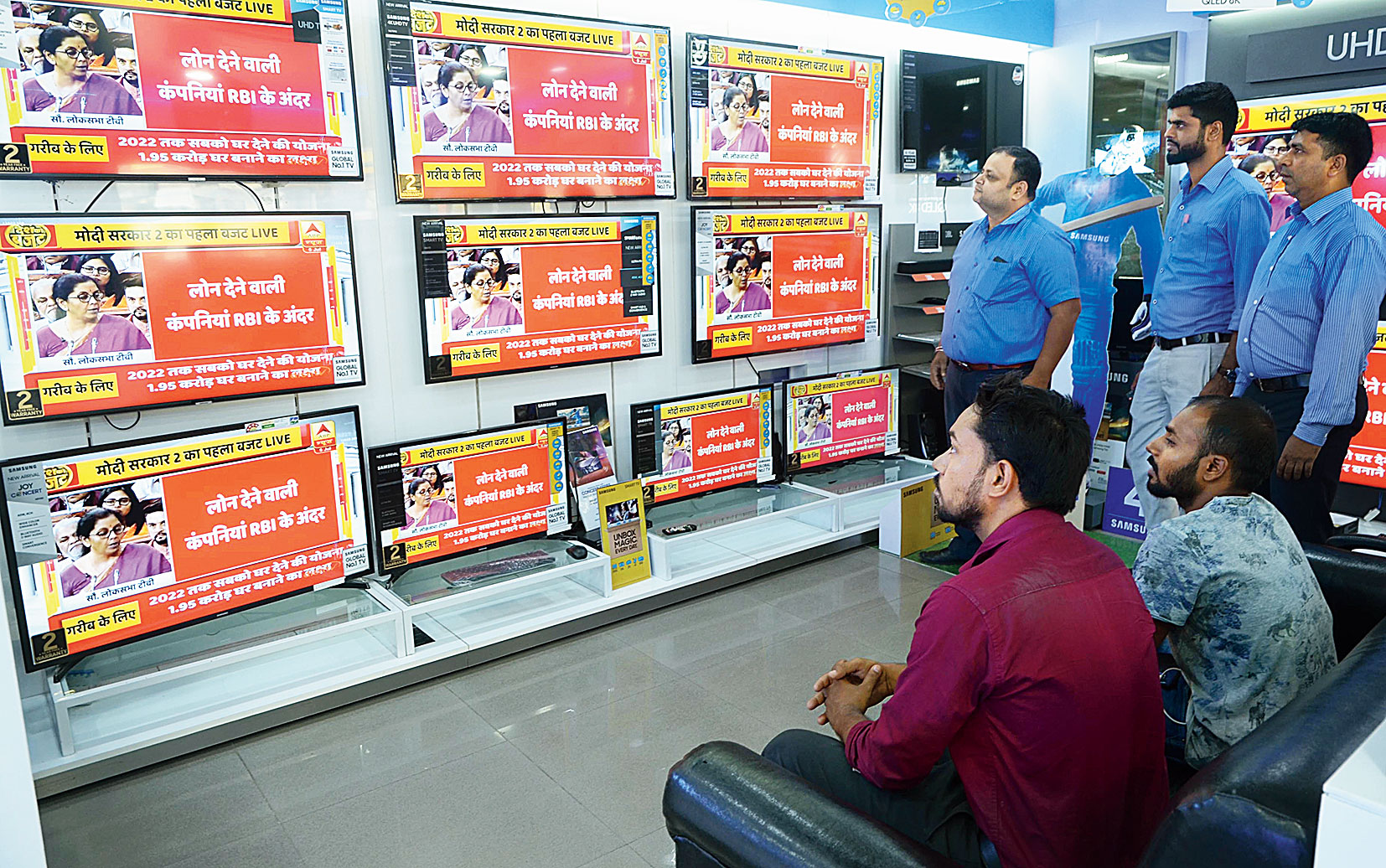 ---
|
Ranchi
|
Published 05.07.19, 10:02 PM
---
There were hope of a big bang Budget, but what finance minister Nirmala Sitharaman delivered left many scratching their heads.
The Telegraph reached out to a cross-section of Ranchiites, including a few who had outlined their expectations on Thursday, for their reaction to the Budget on Friday. The average ratings they gave tell their own story:
Amar Kumar Choudhary, 58
Teacher and registrar, Ranchi University
Budget rating: 7/10
The government has shown intention to revive and strengthen education by announcing a new education policy, which is a good step. Study in India programme to attract foreign students in higher education has also been announced, and the government plans to allocate Rs 400 crore for world-class higher education institutions. The government has made two other important announcements: to set up national research foundation for promotion of research, and the higher education commission. Several measures have been announced to promote entrepreneurship.
Deepak Lohia, 55
Businessman
Budget rating: 5/10
The Budget left me disappointed. There is no good news for the middle class. While the government announced to allocate funds and measures to improve school and higher education, on the other hand import duty on foreign books has been increased. Being a bookseller I can say that this has come as a huge setback for students who will have to pay more. I wonder how this step will help higher education.
Akanksha Rai, 35
Homemaker
Budget rating: 4/10
I had expected that being a woman, finance minister Nirmala Sitharaman would take care of the interests of women. But I did not find anything innovative in the Budget. Girls have not been given any concession in higher education fees. However, there are a few things for women empowerment like Rs 1 lakh loan offered to self-help group women members and every woman of a verified SHG having a Jan Dhan account has been given overdraft facility of Rs 5,000.
Dharma Pravartak Mahendra, 24
Final year student, National University of Study and Research in Law
Budget rating: 6/10
The Jal Jeevan Mission is a welcome change as it addresses the need of water. Incentive on electric vehicles is a positive step. But I certainly felt bad that green/carbon tax was not discussed. Udan Yojana is also a good step besides launching of the new series of coins that the visually impaired can recognise. However, there are certain other announcements made in the Budget that the middle class may not appreciate.
Shweta Pandey, 25
Finance company employee
Rating: 4/10
The tax slab should have been increased. Though a tax relief of Rs 1.5 lakh on home loan for purchase of a house up to Rs 45 lakh has been given, that is not going to benefit a single-earning-member family which can't afford to buy a house. Besides, custom duty on fuel has been increased which may cause price hike. We had expected petroleum products will be brought under GST.
Brij Kant Jha, 63
Retired government servant
Budget rating: 5/10
There is no change in tax slab even for retired persons. The government woke up quite late to waive m3erchant discount rate charges on cashless payment. I follow Gandhi's philosophy and I was surprised to see that the government will develop Gandhipedia to popularise the philosophy of the Mahatma. Hope the Narendra Modi government follows Gandhi's philosophy in letter and spirit.