Bokaro Steel looks the other way as JMM men 'take over' company quarters
What is preventing the PSU for acting, ask residents; party workers say they are doing this to expose rampant illegalities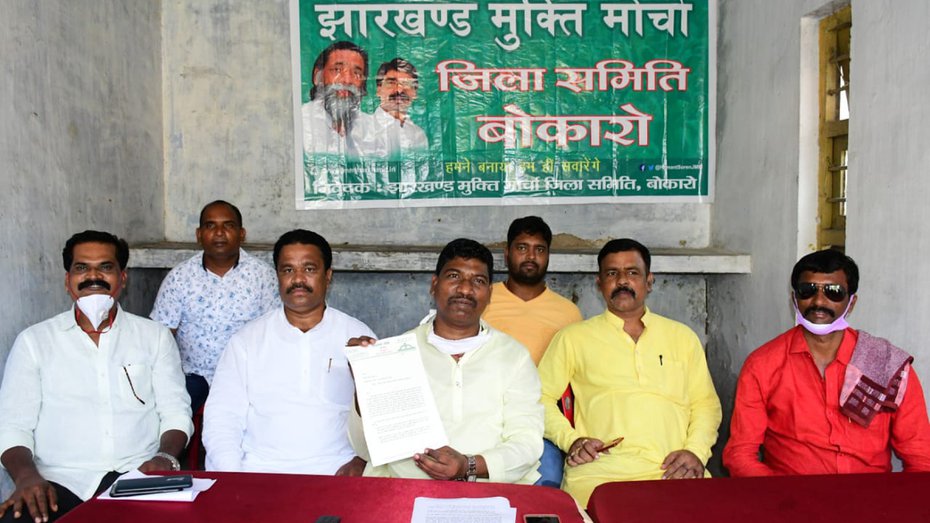 ---
|
Bokaro
|
Published 27.06.20, 08:05 PM
---
Bokaro Steel's inaction over the illegal takeover of one of its staff quarters by JMM workers has baffled PSU employees living in the block with many of them asking the company management to either evict the squatters or shift them elsewhere.
JMM workers, who broke open the lock of the house in much sought-after Sector-1/B of Bokaro and took its possession on Tuesday, say their action was to highlight the culture of illegal occupation of company quarters, allegedly being perpetuated by a section of the PSU's employees.
BSL spokesperson Manikant Dhan refused to comment on the episode but the JMM has stuck to its allegations.
JMM district president Hiralal Manjhi said, "Please tell me how hundreds of BSL quarters are illegally occupied? There is a full department in BSL meant to work on allotment of quarters. Why are these officials and field supervisors not taking any action?"
On June 23, several workers of the ruling JMM entered the Sector 1/B quarters after breaking its lock and said it would serve as their party office.
So far, the district administration has not acted since the BSL management has neither filed a complaint nor taken any step to evict the JMM workers. "What is preventing BSL officials to take action? Their silence has enhanced the morale of JMM workers who believe officials are mum fearing an inquiry," said a resident.
JMM workers say they will not vacate the house unless BSL removed all unauthorised occupants from its township. They claimed they had, in fact, applied to the BSL management requesting allotment of a house a month ago. But company officials did not act.
JMM city president Mantu Yadav alleged BSL officials were silent as they were aware that illegal occupation of BSL quarters was rampant in the town. "Hundreds of BSL houses are occupied illegally in every sector. The JMM has demanded a CBI investigation. Only the CBI can expose the scam related to BSL quarters. It will also reveal the connivance of company officials and employees," he said.
The JMM has also claimed that bona fide residents were concerned about their security, given the rising number of illegal occupants in BSL's quarters. The party has pointed out how police have in the past have apprehended Maoists and criminals living in some of the quarters of BSL.