Bokaro official warns wedding organisers to follow Covid guidelines
Deputy commissioner Mukesh Kumar alleges violations of guidelines at marriage venues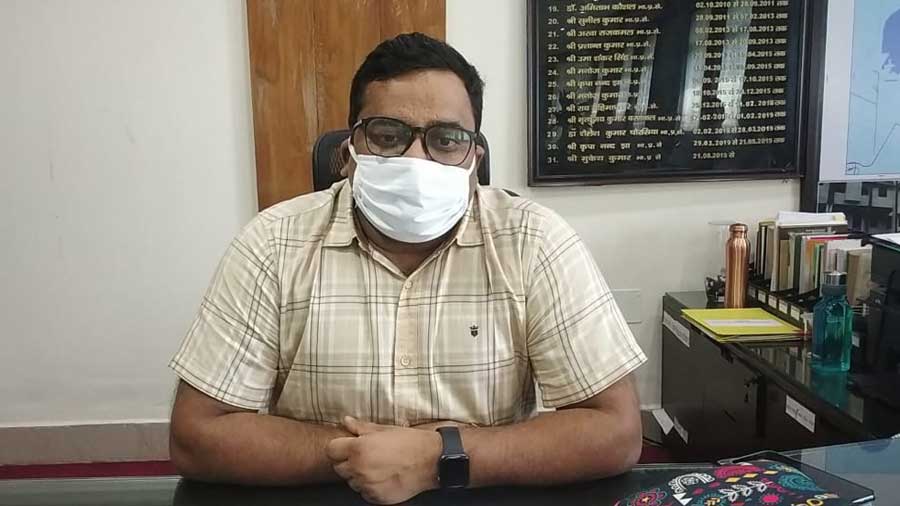 ---
|
Bokaro
|
Published 04.07.20, 12:08 AM
---
Our correspondent in Bokaro
Bokaro deputy commissioner Mukesh Kumar asked marriage organisers to follow the guidelines imposed during the lockdown and warned them of strict legal action in case of violations.
He alleged that the guidelines issued regarding marriage ceremonies in the city were not being followed properly.
"In such situations, the people are unwittingly inviting coronavirus. I warned the organisers to follow the standard-operating procedures issued in the lockdown or the administration will take strict steps," said Kumar.
He said the use of masks, compliance with social distancing, washing of hands periodically with soap or hand wash or sanitiser should be followed by everyone.
The town has witnessed a spike in cases in the past 15 days. At present, there are 11 active cases, including five in Bokaro and Chas townships.
The deputy commissioner said late on Thursday night, 372 sample reports were received, all of which were negative.
He said the only way to avoid this disease was to ensure that everyone followed the guidelines.
In the second week of June, Kumar had announced guidelines for organising marriage functions in the district. Persons above 65 years, pregnant women and children below 10 years would not be allowed to attend the marriage ceremony.
He also empowered the circle officers to provide permission for organising marriage ceremonies in their respective blocks on certain conditions.
No marriages would be solemnised in guest houses, marriage halls or any hotel.
All the police stations in-charge have been directed to ensure strict compliance.
The circle officer has been directed to check all the credentials and issue permission within 24 hours of receiving the applications for marriage.
The guidelines said hotels, dharamshalas, guest houses or temples will not be allowed as marriage venues.
Permission will be issued only when the age of the groom is 21 years and that of the bride is 18 years. The maximum number of guests allowed should be 50.
The organisers should also ensure adequate sanitiser at the entrance and other appropriate places at the venue. Every person entering the venue should undergo thermal scanning. Any person who has a travel history in the past month or was in direct contact with a Covid-19 patient or a person suffering from incurable disease will not be allowed to attend the ceremony, he added.
The guidelines also mention that if any person has symptoms like fever, cold, cough, difficulty in breathing, they will not be allowed to attend the ceremony.
All persons, including the bride and groom, will have to keep face masks.
Social distancing should be followed in the seating arrangement at the wedding ceremony.