Belgarhia residents hold stir for pending allowances
Jharia rehab authority promises to clear dues soon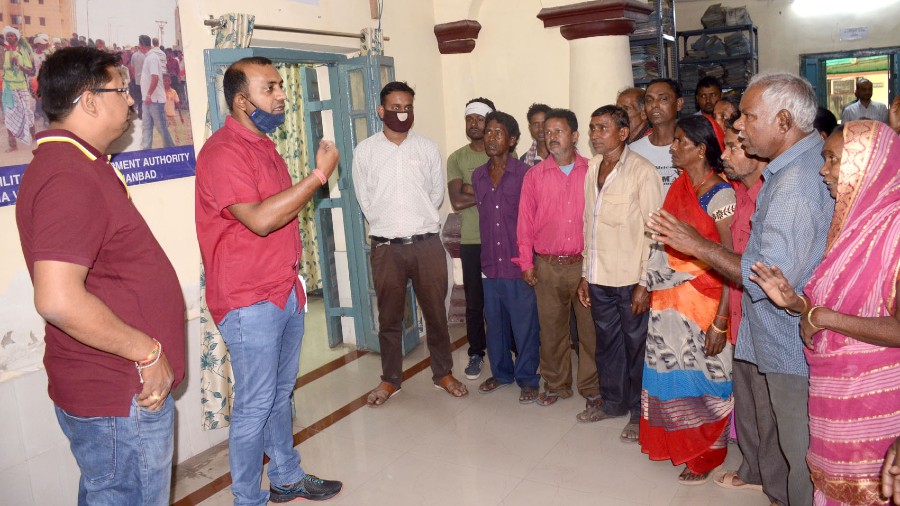 Officials responsible for Jharia rehabilitation try to pacify protesters in Dhanbad on Tuesday.
Gautam Dey
---
Dhanbad
|
Published 09.03.21, 05:27 PM
|
---
Over 50 residents of Belgarhia colony of Jharia held a demonstration at the office of the Jharia Rehabilitation Development Authority at Hirapur demanding immediate payment of dues, including their subsistence allowance.
The protestors also raised the issue of irregular water supply in their colony and other difficulties like lack of transport facilities which were affecting their livelihood. Baidyanath Kumbhkar (55), one of the protestors, said, "We shifted to the colony in 2017 from the underground fire-hit Lodna area and have been provided shifting allowance of Rs 10,000 in 2018."
As per rehabilitation provisions of the Jharia master plan,  each family was to be provided 500 days' minimum wage as subsistence allowance, he said. "We were entitled to a  subsistence allowance of Rs 1.8 lakh to be provided in three installments," he said, adding that they received Rs 45,000 as the first installment  four years after the shifting in 2020. "We are yet to get the 2nd and 3rd installments," he said. 
Echoing his sentiments, Shiv Shankar Mahto, who also participated in the demonstration, said, "I have also shifted from underground fire affected Lodna area along with Baidyanath Kumbhkar and 50 other families. We are still awaiting for the subsistence allowance."
"I own a small grocery shop on the outskirts of Belgharia but majority of foodgrains are out of stock in my shop due to lack of capital. If we got the subsistence allowance on time, we could have earned better from the shop," Mahto said.
JRDA rehabilitation and resettlement Incharge Amar Prasa did not deny there were dues, but added that they would pay up soon. "Altthough both shifting allowance as well as subsistence allowance was provided to a large number of families, one or two installments of subsistence allowance  of some families are still pending for payment. We we will intiate the process immediately."
Out of a total 1.04 lakh families living in 595 underground fire-affected areas, around 5,000 families have so far been rehabilitated to Belgarhia ever since rehabilitation began on March 25, 2010.