Back to college, this time to head-hunt
Flick2Know offers sales automation, brand marketing and consumer engagement solutions using QR codes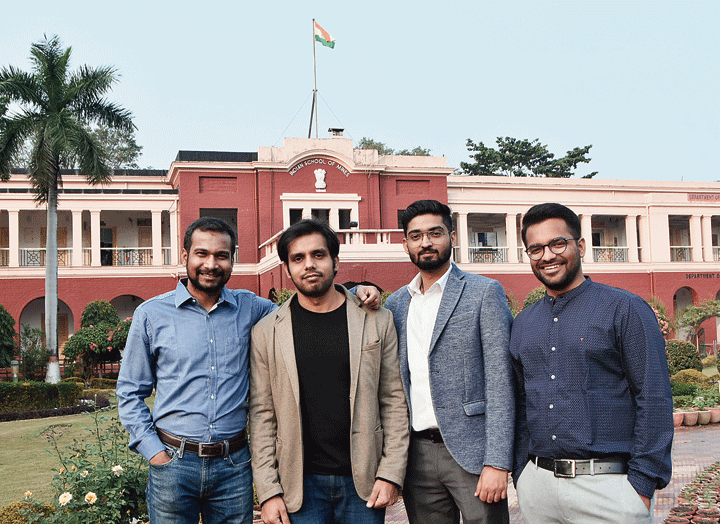 Apurv Gupta, Varun Pandey, Nikhil Agarwal, and Chitransh Jain in front of the IIT(ISM) building in Dhanbad on Tuesday.
Picture by Gautam Dey
---
Dhanbad
|
Published 03.12.19, 09:20 PM
|
---
They've all studied at IIT(ISM), formerly Indian School of Mines, received their degrees and gone out in the world. And now, they are back in college to recruit freshers for the start-up they founded.
Meet IIT(ISM) alumnus Apurv Gupta from the Class of 2009, BTech electronics and communication engineering, and founder of Flick2Know, which he started with batch-mates Divir Tiwari of mining engineering and Peeyush Jain of electronics and communication engineering.
On Tuesday, Apurv and his younger IIT(ISM) friends and now colleagues Nikhil Agarwal (2014 batch, mineral engineering BTech), Chitransh Jain and Varun Pandey (both 2015 batch, mineral engineering BTech) arrived on the Dhanbad campus to head-hunt talent.
Flick2Know offers sales automation, brand marketing and consumer engagement solutions using technologies like QR codes and image processing, QR being widely known and well accepted across the globe.
Their flagship products include Field Assist (FA), a patent-pending technology for field sales automation targeted for FMCG and similar industries, and Flick2Know's end-to-end platform for creating branding-marketing campaigns.
"It's always great to come back here," said Apurv, who conducted a written exam for 15 vacancies of their company. "The start-up bug had bitten me, Divir and Peeyush while we were still in college. Flick2Know was a part of a sponsored project of the ministry of micro, small and medium enterprises in 2010," the entrepreneur said.
He said that their company helps on-field sales team members of companies to collect orders from retailers in a streamlined way.
"Manually, it is a pretty daunting task and something takes a lot of time and effort. Technologically, it is easy with a mobile app. The app helps in effective management of data in the form of orders collected, and ensures their real time monitoring by managers in the field."
He said as tech students they did face some problems while starting a company. "We did not know the nitty-gritty of a start-up and running the operations.
"But gradually we progressed and got associated with other 350 leading FMCG (fast-moving consumer goods) brands covering over 2.5 lakh outlets. We're now a 90-member team including around 15 members of our IIT(ISM) family. We have three offices now, the original one at Gurgaon, and two others in Mumbai and Bangalore, launched in 2016 and 2018, respectively," said Apurv.
Asked about their client roster, Apurv smiled: "We've been lucky to have names such as Tata Chemicals, Mahindra, Bata, MTV, Everest Group, Cipla GX, Vega, Hamdard, Haldirams, Raymond, Jockey, Eureka Forbes, Lotus and many others."
Varun said they would, after the written test, hold an interview on December 5 on on the basis of which eight software engineers and seven operation engineers would be selected for a package of Rs 10 lakhs per annum each.
Do engineering students prefer start-ups or old and established brands where job security is possibly more? Nikhil laughed. "Well, we are all IIT(ISM) alumni and are running a profitable business since 2010. We have an open environment where we treat all employees as a team. There's no hierarchy. That's why I think youngsters would love to work with us," Nikhil said.
Chitransh added that it was always a "wonderful feeling to hire from our alma mater". "IIT(ISM) has some great talent, comparable to the best IITs," he said.