Back on IIT(ISM) campus for degrees
Of the 1,988 passouts, 1,100 were present in person in IIT(ISM)'s third convocation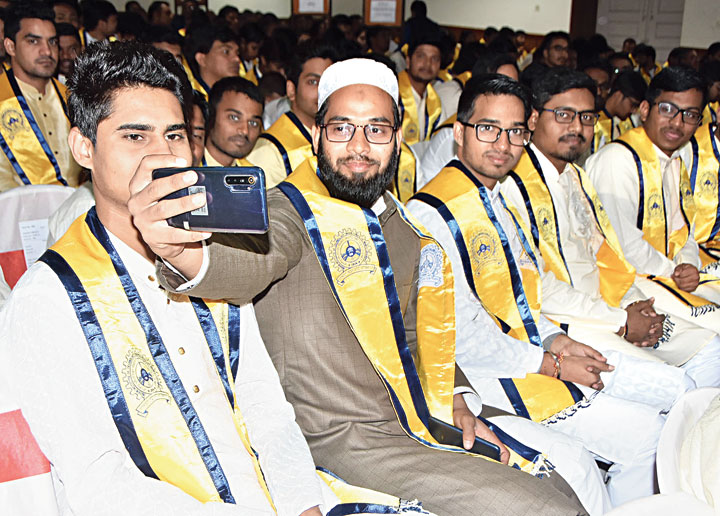 Milestone click: A degree recipient takes a selfie at the IIT(ISM) convocation in Dhanbad on Saturday.
Picture by Gautam Dey
---
Dhanbad
|
Published 21.12.19, 10:17 PM
|
---
Several hundred students received their degrees in front of their proud parents at the IIT(ISM)'s third convocation (the 40th for the erstwhile ISM) at Penman Auditorium here on Saturday.
Of the 1,988 passouts, 1,100 were present in person.
Among the medals given away, 58 were gold, 17 silver and 20 sponsored.
Abhishek Chattopadhyay, a BTech computer science engineering passout, received the President's gold medal, introduced this year to felicitate the highest scoring student admitted through the IIT(JEE) Advanced exam.
ONGC chairman Shashi Shankar was the chief guest. The convocation, which held in three different sessions — was also attended by IIT(ISM) director Rajiv Shekhar and chairman of board of governors D.D. Mishra.
ONGC chairman said: "Students, you are entering an exciting India...The path to become a leading global superpower will not be without challenges and constraints, but it will also throw up many opportunities."
Urging the degree recipients to adopt new technologies, he said there were a lot of opportunities in data analytics, nano technology, Internet of Things and Artificial Intelligence. "Chase technology. Beat the pace," he said, urging youths towards Start-up India.
IIT(ISM) director Shekhar presented the annual report of the institute, including international collaborations in 2018-19, with Politecnico di Milano (Milan, Italy); Instituto Superior Tecnico (Lisbon, Portugal) and the University of Slovakia. IIT(ISM) also became the member of the prestigious Indo-European Heritage of Network of 19 leading technical higher education institutions engaged in collaborations through research and academic activities.
Mishra asked students to focus on their personality, attitude and motivation. "At your workplace, there will be people much older than you and they'd expect respect. Do supervise your subordinates with sensitivity," Mishra said.
Dreams shine bright
Convocation over, eight gold medallists shared their dreams, role models and yes, golden words of wisdom with The Telegraph on Saturday.
Some, like Abhishek Chattopadhyay, BTech in computer science engineering, and recipient of president's gold medal, displayed a refreshing sense of pragmatism. "There is no shortcut to hard work, true, but one must learn the art of developing social relations. Academic excellence alone can't help one handle all problems of life," said the achiever who now works at Amazon India, Hyderabad, but plans on doing an MBA.
K. Bharat Kumar, BTech (mechanical engineering), said he had a humble start as his father K. Chandramoulieshwar is a security guard and mother K. Vanajaksi owns a tea stall at Bhilai. "They taught me courage and honesty," said the scientist-engineer of Isro.
Punit Kumar Pandey, MTech (mechanical manufacturing), said his father, Ravi Shankar Pankey, a head clerk in Balia, Uttar Pradesh, was his role model. "He told me not to be confined to books," said Punit, now pursuing PhD from IIT, Roorkee
Aditya Gangwar, BTech in electrical engineering, had a word of advice for juniors. "Focus on your overall personality development."
Shalini, MTech in environmental science engineering, said class notes apart, students would do well to read reference books and be aware of the world around them.
Ankita Sharabornee, MTech, (mechanical design), said it helps to attend classes regularly and clarify doubts in class itself. Listing Google head Sundar Pichai and her father Prabhat Sharma, a retired banker, as her role models, she said: "Both taught me to push boundaries."
Uday Ranjan, MTech (mechanical tribology), said sincerity always paid off.
Neha, MTech, computer science engineering (IS), asked juniors to strike a balance between academics and social skills.