Axe on Dhanbad Jail officials for their complicity in extortion demand by shooter Aman Singh
The action against the duo has been taken as per the probe conducted by jail administration on the recommendation of Sanjeev Kumar, Senior Superintendent of Police (SSP) of Dhanbad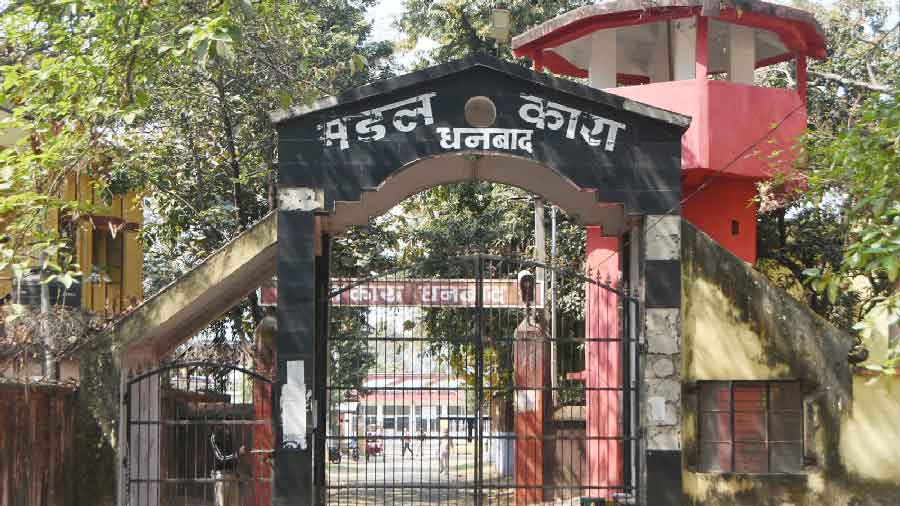 ---
Dhanbad
|
Published 13.05.22, 07:28 PM
|
---
Axe has fallen on the Dhanbad divisional Jail officials for their suspected role with regard to extortion demand and threat calls made by UP based shooter Aman Singh from jail premises to Matkuria based surgeon, Dr Samir Kumar.
 Ashwini Tiwari, jailor of Dhanbad divisional jail has already been suspended as per a letter issued by Manoj Kumar, Inspector General (Prisons) of Jharkhand. This apart Kumar has also written to the state Home, Jail & Disaster Managment department for the transfer of Ajay Kumar, Superintendent of Dhanbad Jail. 
The action against the duo has been taken as per the probe conducted by jail administration on the recommendation of Sanjeev Kumar, Senior Superintendent of Police (SSP) of Dhanbad during which  dubious role of the duo came to light. 
The duo also made unsatisfactory reply to show cause notice served against them on the basis of the findings of the probe report.
Notably, during the course of investigation of extortion demand case from Dr Samir Kumar the  the mobile tower location of Aman Singh was found near the Dhanbad divisional jail.
Dhanbad police sought the CCTV footage of 11 am to 1 pm of May 4 from the Divisional Jail administration during which  period Singh allegedly made threat calls to Dr Samir Kumar. 
Following the analysis of CCTV footage it was found that Aman Singh entered the jail hospital at around 11.54 am and came out of jail at around 12.53 pm.
The CCTV camera direction was allegedly fixed in such direction that it couldn't capture that what Aman Singh was doing during his hour long stay in the jail hospital. The threat call to Dr Samir Kumar was allegedly made by Aman Singh during the same time when he was inside the jail hospital.
Notably, Dhanbad Police on May 6 arrested four persons, including, Bir Bahadur Singh alias Biru, a Dhanbad transporter of  Azamgarh (UP); Md Sirajuddin, a resident of Bengal besides two Dhanbad based history sheeters, Banti Khan and Israfil Ansari in connection with the extortion demand worth Rs 1 crore made to Dr Samir Kumar.
Dhanbad police earlier on May 7 also lodged a case against altogether nine family members of Aman Singh in Govindpur Police station including his elder brother  Ajay Singh; younger brother Amar Singh; farther, Uday Bhan Singh; father in law, Surendra Pratap Singh and others in connection with a firing that took place on a petrol pump of Govindpur Area of Dhanbad recently.
Police which also arrested, Ajay Singh from Ambedkar Nagar locality of Ghazipur district of Uttar Pradesh and he during theinterrogation revealed that Aman Singh used to realize extortion money worth over Rs 40 lakh per month from Dhanbad by making threat calls from behind the jail.
Notably, Aman Singh was arrested from Mirzapur district of Uttar Pradesh by a special task force of UP police on May 3, 2017 in connection with murder of former Dhanbad Deputy Mayor, Niraj Singh that took place on March 21, 2017.
He was brought to Dhanbad jail on May 9, 2017 and shifted several times from Dhanbad jail to Hotwar Jail Ranchi and also to Chaibasa jail due to charges of extortion demand and threat calls against several  traders, industrialists, contractors engaged in coal excavation for BCCL, Coal company officials and even politicians.