At launch of dhoti/sari scheme, Hemant unveils sops of Rs 36cr for Dumka
Jharkhand government planning to launch English medium schools, says Hemant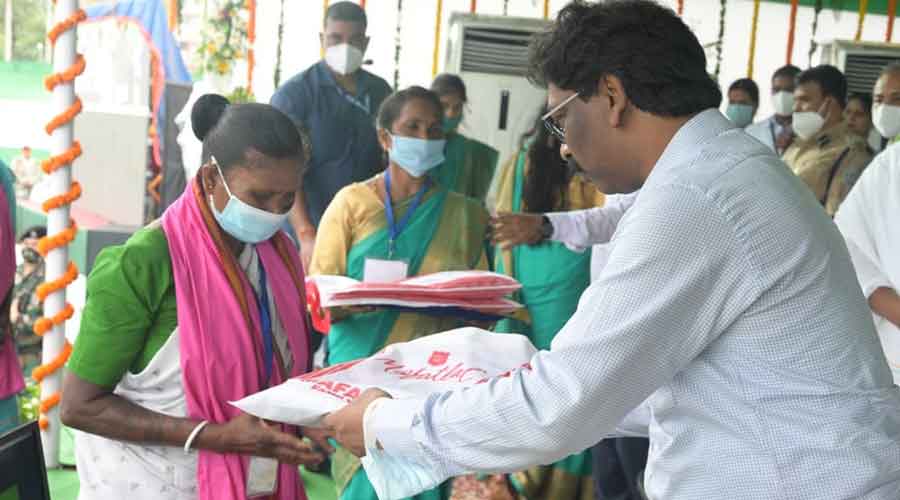 ---
Ranchi
|
Published 22.09.21, 07:48 PM
|
---
Chief minister Hemant Soren re-launched an old government scheme to provide dhoti/sari to those living below the poverty line (BPL) in Jharkhand, maintaining that it was a testimony to his government's commitment towards the poor by providing clothing along with food. 
During a state-level ceremony organised in Dumka on Wednesday, Hemant also inaugurated two COBAS machines set up in Ranchi and Dumka for high-end Covid-19 testing and rolled out other development schemes for the region worth about Rs 36 crore.
Hemant said that improving school education, which suffered a major setback in the last two years due to Covid-19, was one of the priority areas for his government. He revealed that the state  government was working on a plan to start English medium schools in every district.
JMM patriarch and the chief minister's father Shibu Soren, state finance and food and civil supplies minister Rameshwar Oraon, agriculture minister Badal Patralekh, officials of the Dumka administration were present at the ceremony to unveil the dhoti/sari scheme. 
Other districts too held their own function and were connected virtually to the Dumka programme.
Titled "Sona Sobran Dhoti Sari Scheme", all BPL families will be able to get dhotis or saris at Rs 10 each twice a year from PDS outlets. 
Speaking on the occasion, Hemant lashed out at the previous BJP government for suspending thes scheme,  originally launched by him during his first stint as chief minister in 2014.
"Anaj ke saath, garib ko kapda humara sankalp tha jab maine yeh yojna shuru kiya tha pichli baar. (Along with food grains, access to proper clothing to poor was our resolution when I started this scheme last year). We lost power later and BJP government then stopped this. But now, poor in this state don't have to worry about the two basic requirements—food and clothing," Hemant said, adding that the government has allocated Rs 500 crore per annum for the  scheme to serve around  58 lakh ration card holders.
The chief minister also presented dhotis and saris to a handful of beneficiaries in Dumka.
Reiterating his government's commitment to  provide jobs, he said that although the government had declared 2021 as employment year, the second wave of the Covid-19 pandemic had delayed plans. "Despite battling challenges in upgrading the health sector for effective management of the pandemic, we are working round- the-clock to fulfill our promises. As far as employment is concerned, things have started moving in the right direction," he said, highlighting how the recently launched local employment policy would help. 
"The past government's job policy was such that mostly outsiders were given jobs. It (the BJP government) was never serious about creation of jobs. In five years, the BJP government couldn't conduct state public service commission exams, but just a few days ago, we held exams for all four pending years," he said.
"My government is working with an agenda to develop villages, strengthen farmers at the grassroots. These initiatives will lay a solid foundation for overall development of the state," Hemant said.
Finance minister Rameshwara Oraon, in his address, stressed on the frail economic health of the state due to lavish spending by the previous government. "You must know that we are still not in a good position in terms of our fiscal health. But through prudent spending, we are able to fund schemes and polices for the people of Jharkhand," he said.