Anindita Banerjee's Bengali Chhath song is a social media hit
The 5-minute video, which has earned 5 lakh viewers, was shot during lockdown at her home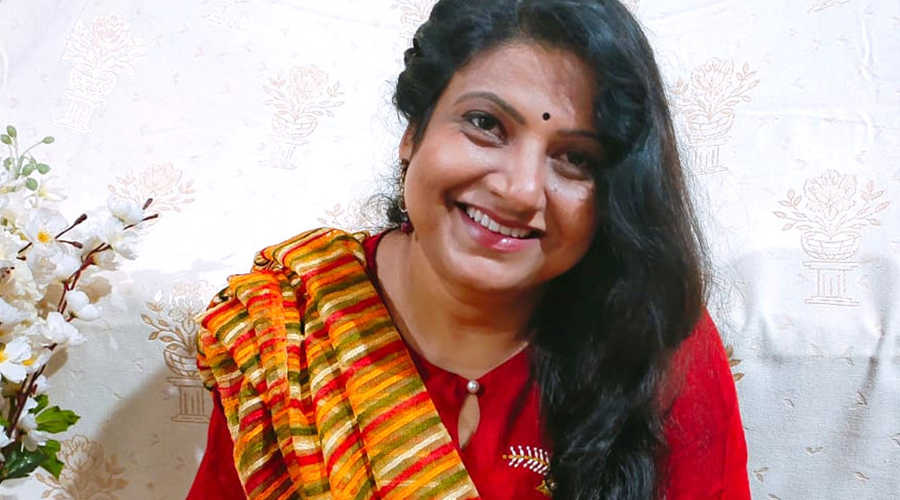 Anindita Banerjee, singer of Bengali Chhat song.
Picture by Gautam Dey.
---
Dhanbad
|
Published 19.11.20, 07:20 PM
|
---
A Bengali Chhath song, sung by Anindita Banerjee, a 43-year-old Bengali semi-classical vocalist of Dhanbad, has earned tremendous popularity on social media. The song, titled Chhath mayer koto je mohima, se-kiar mukhe bola jaye, witnessed over eight lakh viewers so far on YouTube, Facebook, etc.
The five-minute video song, written, sung, and later shot at the lounge of Tata Steel Sijua Bhelatand, a residential quarter, during the lockdown, was first uploaded on YouTube on November 5 and then subsequently also uploaded on Facebook by other portals like 99 news and City live Dhanbad.
The song was originally composed by Sanjay Kumar. Bokaro based musician, Mritunjay Bhattacharjee has given music for the song, and mixing of the song was carried out at Higher Octave Studio of Bokaro.
Talking to the Telegraph Online on Thursday, Banerjee, wife of a Tata Steel Sijua Group Mining Engineer, Barun Kumar Banerjee said, "Music is in my gene as my father, Alok Kanti Achharya was a famous sitarist of his time at Bishnupur of Bengal and I learned Rabindra Sangeet from Maya Sen in Calcutta for several years."
"Though I was not well versed with Hindi after my marriage in 1999 at Dhanbad I learned Ghazal, Thumri, and other semi-classical music under the guidance of the noted musician of Dhanbad Balkishan Singh (popularly known as Munna Bhaiya) for more than a decade and performed in several musical programs in Dhanbad and others parts of the country including, Hyderabad, Bangalore, Coimbatore, Durgapur, Raniganj, Calcutta, etc.," said Banerjee.
"Living in Jharkhand for more than two decades I developed a lot of respect for Chhath puja and the folk song tone of Chhath impressed me a lot," said Banerjee and added that the idea for singing a Chhath in Bengali came to her mind during the lockdown.
"Sanjay Kumar Nayak, a lyricist, composed the song and after making some minor changes in the words of the original composition, I sang it at my home, and the video was shot by my daughter pursuing law course at Mumbai who was at home during the lockdown," said Banerjee.
"We uploaded the song video on YouTube on November 5 and it was an instant hit as I received a lot of phone calls. Gradually some local news portals approached us and uploaded the video on their Facebook page and the total number of viewers for the song has crossed eight lakh so far," informed  Banerjee.
Banerjee is an active member of Ramkrishna Mission Group and has performed on multiple devotional songs on their platform.