Alert before VVIP visits
Modi is scheduled to address a poll rally in Lohardaga for BJP candidate Sudarshan Bhagat on Wednesday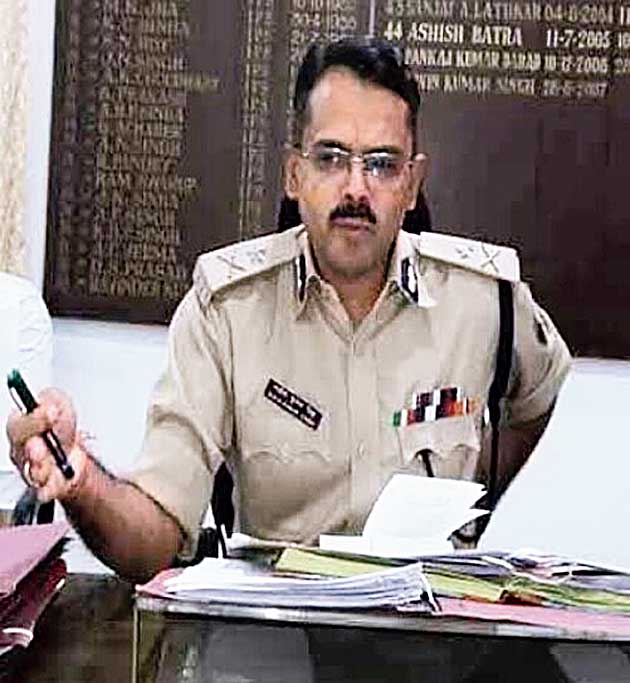 Palamau inspector-general Navin Kumar Singh
Telegraph picture
---
Daltonganj
|
Published 21.04.19, 06:58 PM
|
---
With Prime Minister Narendra Modi and home minister Rajnath Singh scheduled to reach Jharkhand on Tuesday for a slew of poll campaigns, police are on high alert in the state. Not just Maoists and splinter rebel groups, but criminals, trouble-mongers and rumour-mongers have to be taken care of, particularly during election time, feels Navin Kumar Singh, Palamau inspector-general (IG) of police.
Modi is scheduled to address a poll rally in Lohardaga for BJP candidate Sudarshan Bhagat on Wednesday, a day after he reaches Ranchi on Tuesday evening. Union home minister Rajnath Singh will campaign on Tuesday in Palamau's Hussainabad for the BJP's V.D. Ram. Both Bhagat and Ram are seeking a fresh term.
IG Singh, who had overseen the preparations in Daltonganj with DGP D.K. Pandey, Special Branch and others, for the Prime Minister's visit on January 5 for laying the foundation to resume work on Mandal Dam (Palamau), spoke to The Telegraph on Sunday on handling VVIP visits and other Lok Sabha poll pressures. Excerpts:
TT: The Prime Minister and home minister are supposed to come to Jharkhand this week. Security concerns are huge. How well are the police prepared?
IG: Yes, we are aware of the security concerns. Not everything can be shared with the public but top security personnel are keeping a close eye on these two events (rallies of Modi and Rajnath Singh). We have done ASL (advanced security liaison) with other security umbrellas. There will be extra deployment of security forces. DSP-level officers have been thoroughly sensitised to ensure safe and incident-free programmes.
As poll days approach (Jharkhand goes to vote from April 29), poll rumour-mongers and lumpen elements are known to resurface. How will state police deal with them?
With a very firm hand
What about proclaimed absconders?
Time is running out for proclaimed absconders. Police are now armed with Section 174A of the IPC. This amended section of the IPC is tough on proclaimed absconders, who will get six years prison term for not appearing in court or not heeding any court notice
Has the district police across the state shortlisted such proclaimed absconders?
Yes, the state police are ready with the list of proclaimed absconders. There are around a dozen such on an average in every district
Retreat of polling parties and security contingents after voting is over at sensitive (rebel-hit) areas is as risky as going on duty but more laxity is seen at the time of retreat. The poll parties will have with them polled EVMs, VVPATs, among others. What is your take on this?
We have ordered our men (police) and polling officials to stick to the SoPs (standard operating procedures) and under no circumstances is there any room for being off guard. The level of alertness must be high
Jharkhand High Court Ranchi too had sternly asked state police to arrest culprits against whom there were pending warrants over the years. What is the success rate?
State police have launched a special drive and arrested such accused in large numbers.