Agitation at steel plant near Bokaro - Over 500 squat for jobs at Chandankyari, ban orders clamped
Read more below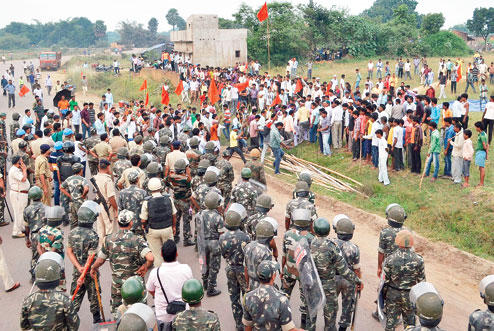 ---
Published 10.10.14, 12:00 AM
|
---
Policemen on guard as protesters gather at a field near ECL at Chandankyari in Bokaro on Thursday. Picture by Pankaj Singh
Bokaro, Oct. 9: Over 500 local residents laid siege to a steel plant near Bokaro for the third time this year, but the administration promptly clamped Section 144 in the area and rounded up 11 protesters to ensure operations weren't hampered.
Under the banner of Sangathit Majdoor Morcha, the local villagers claimed they had given up land for the 2.5MT Electrosteel Castings Limited (ECL) at Siyaljori in Chandankyari block, around 30km from Bokaro steel city, but had been inadequately compensated.
From early Thursday morning, they blocked all routes leading to the steel plant in support of their 14-point charter of demands that included jobs for all displaced.
Divided into small groups, the protesters put up tents at Bijulia and Bandhdih, 400 metre from the main gate of the plant, to prevent trucks and other heavy vehicles from entering the plant to enforce their "economic blockade".
However, the district administration deployed a contingent of over 400 police personnel, led by Chas SDO S.N. Ram, near the plant to avert a rerun of a February-like situation wherein around 800 workers were held captive inside the plant by protesters for around a week.
Also, DSPs R.K. Singh, Manohar Toppo and Bepin Kumar and 14 magistrates have been posted at several points around the plant to keep tabs on the protesters' activities.
As a precautionary measure, the administration detained 11 protesters, including their leader Santosh Mahtha, and locked them up at Siyaljori police station around 3am.
The tight security arrangements prevented any forceful assembly by agitators in front of the main gate and workers could enter the plant as usual.
Chas SDO Ram, who was at the main gate since morning, said no one would be allowed to take the law into his hands.
"Assembly of people in large numbers is prohibited. We detained 11 people in an early morning swoop to avert a siege attempt by the protesters. The situation is under control," he claimed.
A.K. Mahto, one of the leaders of the agitation, said they were forced to hit the protest path as their demands were not met. He claimed during a tripartite meeting held in February, the company agreed to hire around 2,000 land losers as contract labourers in phases during the commissioning of the steel plant.
The company, he added, had agreed to give immediate employment to 100 displaced people, who had registered their land to Electrosteel Casting Ltd. "But ECL is yet to fulfil the promises," Mahto said.
ECL chief of communications Rohit Singh claimed the agitation hadn't disrupted work at the plant, which was currently functioning on a trial basis to produce around 1.5MT.
Thanking the administration for providing timely security, he denied the allegations of unfulfilled promises. "We are adhering to the agreement arrived at during the tripartite talks in February," he said.
The displaced finally withdrew their blockade late in the night.