The indirect election to pick five office bearers of Ranchi University's students union remained one-sided on Thursday with RSS-backed Akhil Bharatiya Vidyarthi Parishad (ABVP) emerging the undisputed leader.
Out of the 80 elected representatives of colleges and post-graduate departments who were expected to participate in indirect election, only 46 exercised their franchise on Thursday. The remaining 34 boycotted the election.
Those who voted were identified as ABVP members or independent candidates while those who boycotted the election belonged to Adivasi Chhatra Sangh and Ajsu.
Former president of Ranchi University students union Tanuj Khatri, who went to the polling booth to guage the situation, told The Telegraph that election was one-sided and all the five seats were won by ABVP.
"As Adivasi Chhatra Sangh and Ajsu boycotted the election anticipating their impending defeat, all seats as expected were won by ABVP members," Khatri said.
He said before announcing the boycott, Adivasi Chhatra Sangh and Ajsu staged demonstration in front of the counting booth at the department of basic sciences accusing ABVP workers of abducting their four supporters from B.S. College, Lohardaga.
"However, their allegation was proved wrong when police showed the video issued by them saying they were not interested in taking part in the election because Adivasi Chhatra Sangh and Ajsu had struck an alliance without taking them into confidence," Khatri added.
Ranchi University spokesperson Prakash Jha confirmed the fact while sharing the name of the the ABVP winners. "The winners are Neha Mardi (president), Kunal Kumar Sharma (vice-president), Saurabh Bose (secretary), Anit Ranjan (deputy secretary) and Saurabh Kumar (joint secretary). Officially, we can't divulge their political affiliation, but unofficially we have come to know that they belong to ABVP," Jha said.
National executive committee member of ABVP Atal Pandey confirmed the victory.
"You are right. All the winners are from our organisation. We registered victory over divisive forces that created differences among students in the name of caste and region. We have given the student union its first girl president (Neha Mardi)," Pandey said.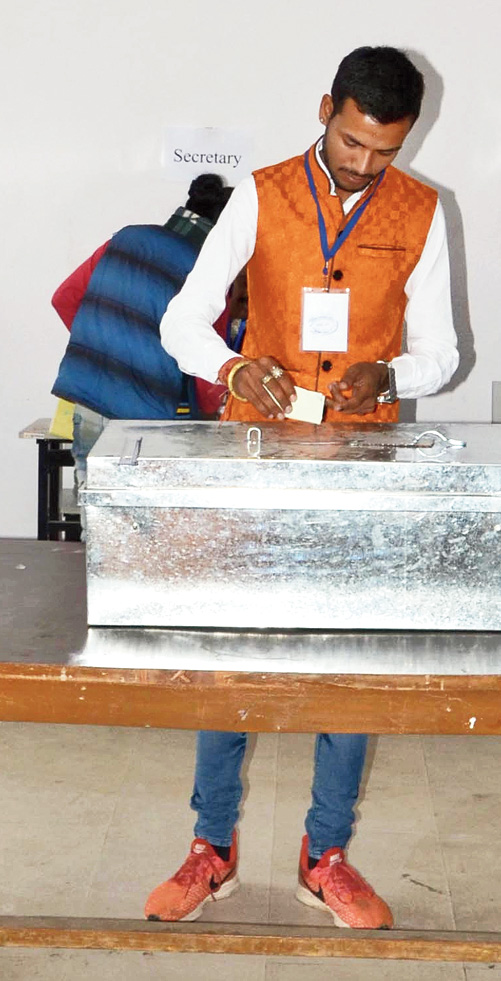 An ABVP member casts his vote. Prashant Mitra