8 to vie for Leadership Challenge 2019 crown
Grand finale to be held today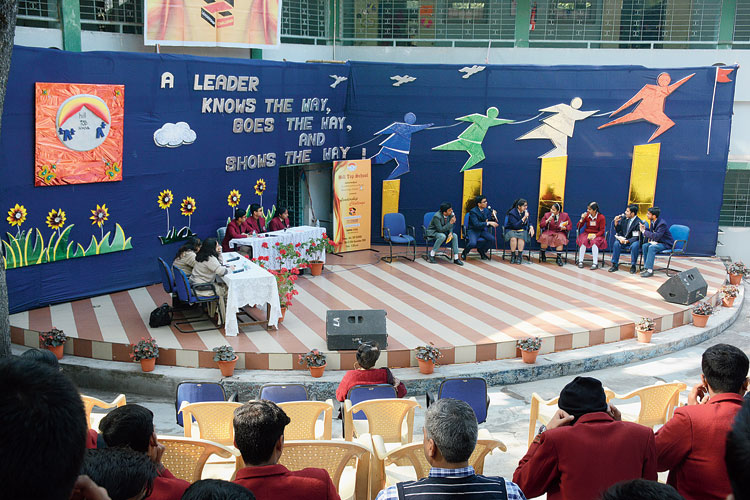 ---
---
Eight future leaders made it to the grand finale after three gruelling sessions on Thursday, the first day of the two-day Leadership Challenge 2019 hosted by Hill Top School on its campus in Telco in collaboration with knowledge partner GreyCaps and The Telegraph.
A total of 44 participants from classes IX to XII of 22 schools were divided into teams of two as part of a group discussion.
Students had to share their opinions on topics such as Tik Tok should be banned, the Alexas of the world are making us lazy, group discussions are a bad way of selection, private transportation should be banned to spare the climate, boys get more insecured by successful girls than successful boys and self-learning is making teachers obsolete.
"After the group discussion that tested students' knowledge and opinion, we selected 22 candidates for the extempore round," Hill Top principal Puneeta Chouhan said.
In this round, students, who were given topics on the stage, hand to speak on the brands, books and famous personalities that they think would represent them best.
After the extempore, 14 candidates were selected for the personal interview round that comprised one-to-one interaction between the candidates and Greycaps team.
"The aim of the personal interview round was to assess the personality traits of the students and know their response to a particular situation in life," Chouhan said.
After the personal interview, eight contestants made it to the grand finale to be held at the same venue on Friday.
The lucky finalists include Rupika Sinha (Carmel Junior College), Khushi Gandhi (DBMS English School), Himpriya Kumari (Gulmohur High School), Mondrita Chatterjee (Hill Top School), Anwesha Dutta (Kerala Public School, Kadma), Gorthi Shanmukha Vishnu and Sanjali Brahma (Little Flower School) and Aditya Kumar Singh (Rajendra Vidyalaya).
"The winner will be given cash prize and trophy by chief guest Shukla Mohanty, vice-chancellor Kolhan University," Chouhan added.
This is the ninth edition of the Leadership Challenge hosted by Hill Top School.