29-year-old lawyer with BJP links hacked to death in Jamshedpur
Family names prime suspect in FIR, police suspect land mafia's involvement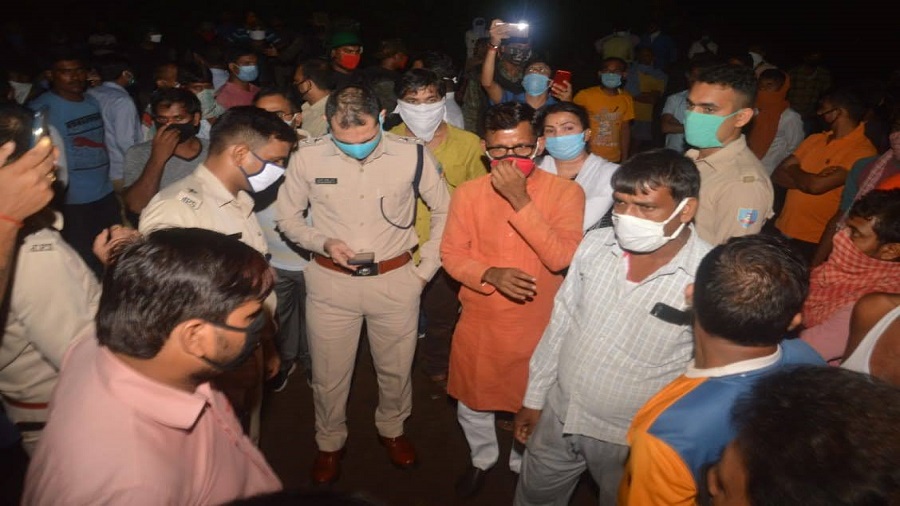 ---
Jamshedpur
|
Published 22.07.20, 08:13 PM
|
---
A 29-year-old lawyer and BJP worker, known for his crusade against land grabbers at Birsanagar, was hacked to death by a group of eight men on Tuesday night barely 100 metre from his home, sparking anger among local residents and the legal fraternity.
The family of Prakash Yadav, who used to practice in the Jamshedpur civil court, has alleged that one Amulya Karmakar, also a BJP activist, was behind the murder. In its FIR lodged with Birsanagar thana, the family has demanded the immediate arrest of Karmakar and others involved in the killing.
Police have picked up four suspects for interrogation but are yet to arrest anyone.
According to family members, two of Prakash's friends visited him at his home at Birsanagar Zone No 1-B around 8pm and took him to Hari Mandir, about 100 metre away, as they apparently did often, thereby arousing no suspicion.
"Seven-eight persons came on bikes near Hari Mandir with swords and axes in their hands and suddenly attacked Yadav at 10pm," said a family member. "They first attacked him with axes and subsequently slit his throat. As Prakash lay in a pool of blood, they fled.  By the time people from the neighbourhood rushed to the spot, he had died."
The two friends who took Prakash to Hari Mandir are absconding.
Prakash's relatives said that a section of the local goons with political affiliations ran a land grabbing racket. "The land mafia is active in Birsanagar. Prakash would oppose them and even lodge complaints with the local police and Dhalbhum SDO. He made enemies because of his stand," said Anuj Kumar Yadav, Prakash's maternal uncle told The Telegraph Online.
City SP Subhash Chandra Jat, who visited the spot at Hari Mandir on Tuesday night and also on Wednesday morning, said investigations were on. "We have picked up four suspects. We will arrest them after we know more. Prima facie, the land mafia appears to have plotted the murder," he told The Telegraph Online.
On Wednesday, members of Jamshedpur Bar Association called a strike in protest against the murder of their fellow member. Later, the lawyers also set up a road block near Jamshedpur Civil Court in Sitaramdera, demanding the immediate arrest of those involved in the murder.
Several BJP leaders, including former chief minister Raghubar Das, visited Prakash's house to express their condolence to the family. Das demanded that police arrest the assailants within 48 hours, failing which, he said, the BJP district committee would launch an agitation.