Human chain against Stan death in Latehar and Gumla districts
The protest also strengthened the resolve of the villagers to continue their agitation against any attempts to acquire land for the proposed Netarhat firing range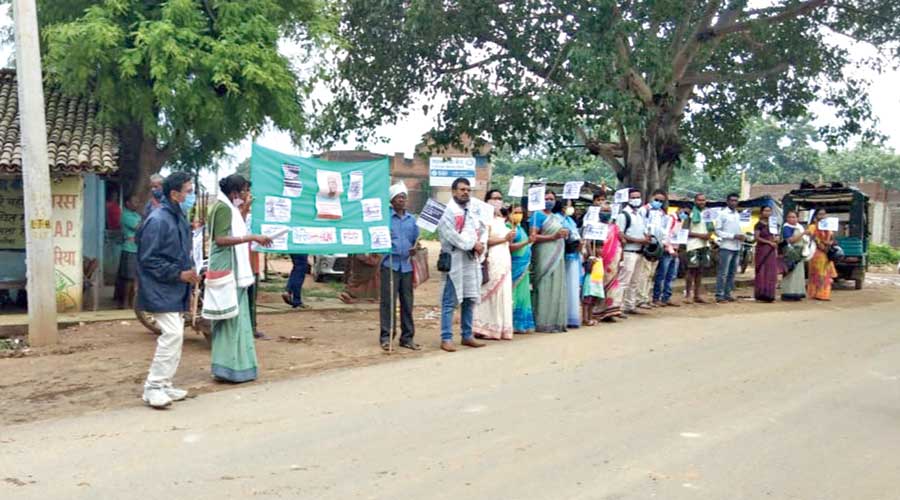 Villagers take part in a human chain protest at different stretches of Latehar and Gumla on Tuesday.
Bhola Prasad
---
Jamshedpur
|
Published 22.07.21, 01:23 AM
|
---
The seeds of resistance sown by Father Stan Swamy continue to bear fruit even after his death in custody as more than 500 villagers took part in a human chain protest on Tuesday in Latehar and Gumla districts of Jharkhand.
The symbolic human chain stretching over 2km was not only a protest against the custodial "killing" of the 84-year-old Jesuit priest and tribal rights activist but also strengthened the resolve of the villagers to continue their agitation against any attempts to acquire land for the proposed Netarhat firing range.
The tribals under the aegis of Kendriya Jan Sangarsh Samity, Latehar-Gumla, which has been spearheading agitation against the Netarhat field firing range pilot project, formed the human chain from Chatakpur (near Mahuatand, Latehar) to Chainpur in Gumla district.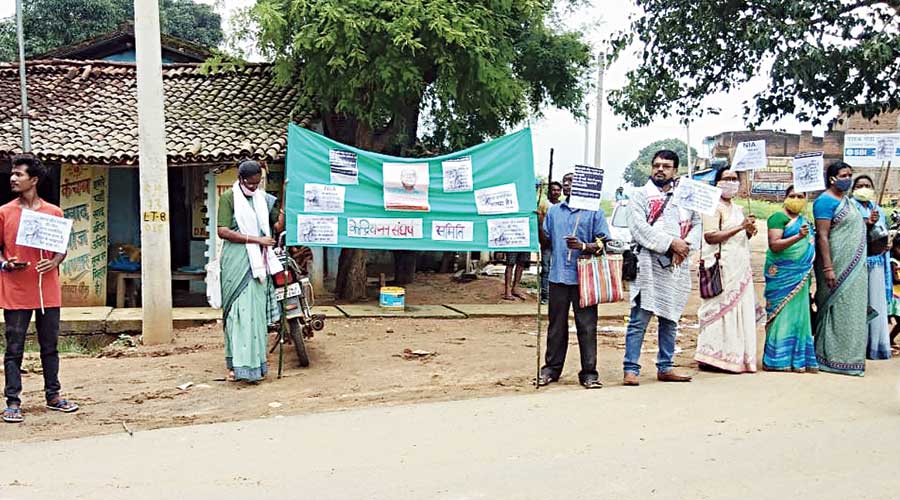 "Father Stan Swamy was with us during our agitation in the early 90s (1993-94) against land acquisition for the firing range. He had been a pillar of strength advising us on strategies and helping us know our constitutional rights and legal provisions. We have come to know how the frail elderly man was literally killed in custody, denied bail and was sent to hospital in critical condition where he died on July 5. The agitation is a small token of our tribute to Father Stan," said Jerome Kujur, secretary of the Samity and a resident of Gumla.
The protest against the firing range has been going on since the 1990s, when the Union government had earmarked about 1,471sqkm in Netarhat hills spread over Gumla and Latehar to build a firing range for the army, prior to the formation of Jharkhand. Two state notifications of November and March 1992, under section 9(1) of the Manoeuvres Field Firing and Artillery Practices Act, 1938, notified this area for periodical field firing and artillery practice for 10 years. Separate notifications in 1992 and in 2002 extended the field firing and artillery practice till 2022, according to reports.
Owing to enormous resistance in 1994, practice in the range and the displacement of over 2 lakh tribals across 245 villages was stopped. However, as the deadline for the renewal of the notification nears, the Adivasi community has renewed its struggle.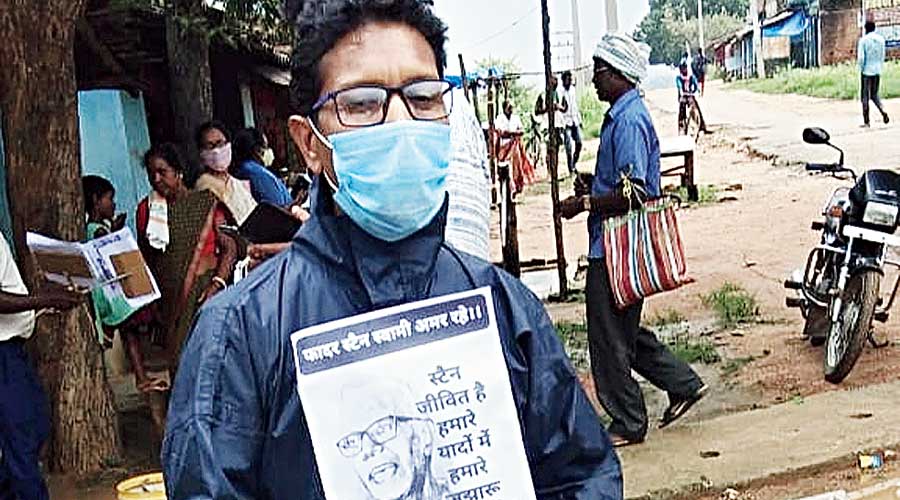 The villagers who would be displaced by the firing range braved the rain and abided by Covid rules during the human chain protest on Tuesday maintaining social distance and wearing masks. They raised placards and shouted slogans against the death of Fr Stan.
Separate delegations submitted memorandum to officials at three places.
"Memorandum was submitted to the Mahuatand sub-divisional magistrate (in Latehar), the Chainpur sub-divisional magistrate (in Gumla) and the Gumla sub-divisional magistrate," said Kujur.
The memorandum, which was addressed to governor Ramesh Bais, demanded a judicial probe into the death of Fr Stan, ensure punishment to those allegedly responsible for his death, immediate release of human rights activists and political prisoners who have been detained on fabricated charges, repeal of draconian laws like the UAPA and accord martyrdom status to Fr Stan.
The protesters said they will follow the path shown by Fr Stan and continue to raise their voices of dissent against any attempts to displace villagers for the firing range.
Tributes were also paid to Fr Stan by members of Johar (a tribal organisation with which he was associated) at Chaibasa in West Singhbhum district on Tuesday.