'Youngest' Cong vs 'old' BJP
Priyanka urges party workers to interact with people and identify dedicated functionaries to be fielded as candidates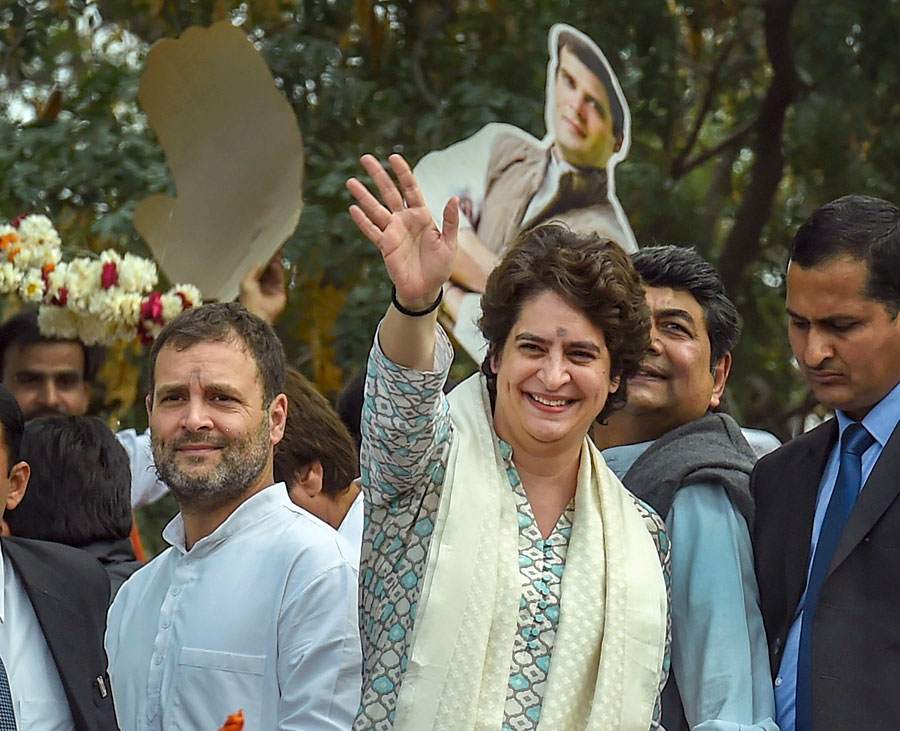 Rahul Gandhi and Priyanka Gandhi Vadra during a roadshow in Lucknow on Monday.
(PTI)
---
Lucknow
|
Published 12.02.19, 10:36 PM
|
---
Priyanka Gandhi Vadra on Tuesday held separate meetings with Congress workers from 14 Lok Sabha constituencies in and around Lucknow, pitching herself and Rahul Gandhi as "young" alternatives to an ageing BJP, sources said.
"You must have heard BJP leaders saying that the Congress is getting old. Tell them that we have Rahul, Priyanka and Jyotiraditya (Scindia) and so we are the youngest party. Now it is the BJP that is getting old," a Congress functionary quoted Priyanka as saying.
She asked the party members to directly interact with people and also identify "real grassroots and winnable dedicated functionaries who can be fielded in elections", the party sources said.
Earlier in the day, party chief Rahul put 41 seats in Uttar Pradesh under Priyanka'a watch and 39 under Jyotiraditya Scindia's monitoring.
At the closed-door meetings at the Congress office in Lucknow, Priyanka, the new general secretary in charge of eastern Uttar Pradesh, is said to have instructed the party workers to keep track of what Rahul says on the Rafale controversy and discuss the issue with people "so that they can realise that it is a big scam directly committed by the Prime Minister".
"Now or never," a Congress member who was present at one of the meetings quoted Priyanka as saying. "We defeated Modi, the RSS and the BJP in Chhattisgarh, Madhya Pradesh and Rajasthan. We can defeat them in most seats in Uttar Pradesh in the Lok Sabha elections," he further quoted her as saying.
The functionary said those at the meeting requested Priyanka to address as many campaign rallies in Uttar Pradesh as possible. "She assured us that she would not miss any constituency," he said on condition of anonymity.
Rahul, Priyanka and Scindia had helmed a massive road show on Monday.
Although Priyanka was supposed to stay in Lucknow for four days from Monday, she had left for Jaipur in evening to be with her husband Robert Vadra and mother-in-law Maureen Vadra, who had been summoned by the Enforcement Directorate in a land scam case in Bikaner. She returned on Tuesday.
Scindia, who is charge of western Uttar Pradesh, met Congress members of 14 constituencies.