Yogi dole seen as balm for sadhus upset with temple delay
Govt pension scheme to cover all destitute people -- and that means 100,000 sadhus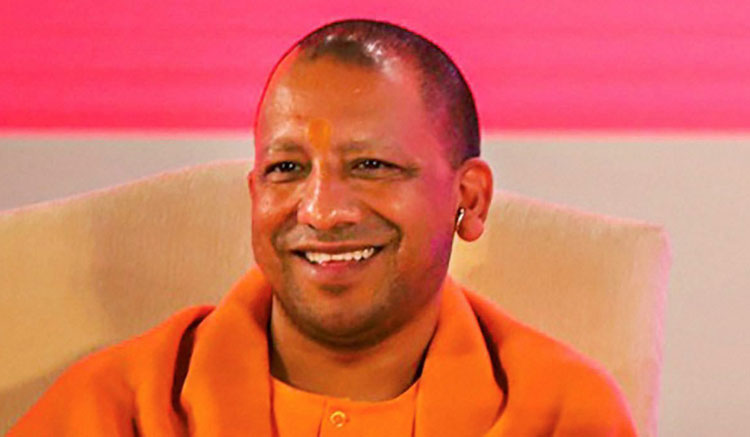 Yogi Adityanath at the inauguration of the Pravasi Bhartiya Divas in Varanasi on Monday.
(PTI)
---
Lucknow
|
Published 21.01.19, 09:34 PM
|
---
Chief minister Yogi Adityanath on Monday announced a monthly pension of Rs 500 for all destitute people aged above 60, prompting suggestions it was a dole for sadhus angry at the delay over the Ram temple in Ayodhya.
"Besides paying pension to widows, the aged and the disabled, we have decided to cover 100 per cent destitute people under the (state government's pension) scheme," the chief minister told reporters.
Adityanath, himself a monk and the mahant of the Gorakhnath temple, added that camps would be set up across the state to enrol the beneficiaries by January 30.
Although he didn't mention sadhus, government sources claimed the decision would benefit over one lakh monks.
"The chief minister wants us to enrol sadhus under the scheme," a social welfare department official said, requesting anonymity.
The announcement comes at a time over three lakh sadhus have assembled in Allahabad for the Ardh Kumbh, scheduled from January 14 to March 4, with many castigating the central and state governments for the delay in building a Ram temple in Ayodhya.
Narendra Giri, head of the All India Akhara Parishad, an umbrella organisation of sadhus, had said on Sunday that the monks would march to Ayodhya after the Ardh Kumbh to protest the BJP government's "false promise to build the Ram temple".
Samajwadi Party president Akhilesh Yadav scoffed at Adityanath's announcement, telling reporters that the state government should pay every saffron-robed ascetic a monthly pension of Rs 20,000.
He mockingly demanded that the government also pay a pension to the Ramlila artistes who enact parts of the Ramayan during Dussehra.
Sadhus and Ramlila artistes had separately requested the chief minister to pay them a pension because they were engaged in "holy work".
"The chief minister is hobnobbing with sadhus to create a positive atmosphere for the BJP ahead of the general election," Akhilesh said.
Asked what he had done for the disadvantaged when he was chief minister between 2012 and 2017, Akhilesh said: "We had started a Samajwadi Pension of Rs 500 a month for women living below the poverty line, but the BJP government discontinued it. We will resume the scheme and raise the sum to Rs 2,000 if voted back to power."
At his media interaction, Adityanath reminded the reporters that he had increased the pension for widows, the aged and the disabled from Rs 400 to Rs 500.