Ayodhya sadhus 'upset'
Prime Minister is cheating us on temple, says 'disappointed' priest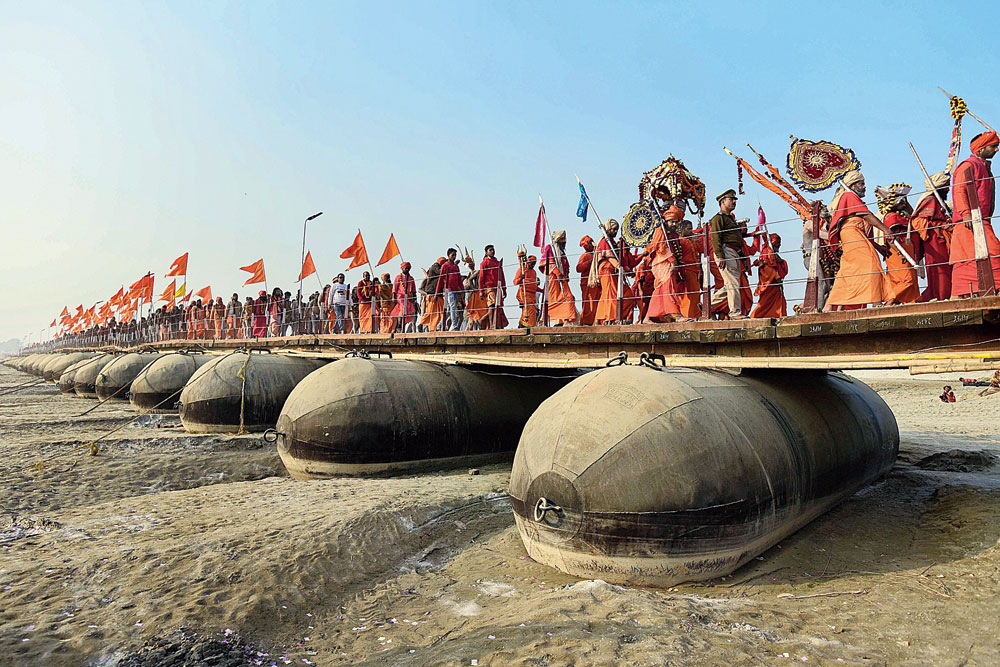 ---
|
Lucknow
|
Published 02.01.19, 08:38 PM
---
The chief priest of the makeshift Ram temple in Ayodhya on Wednesday said he was disappointed with Prime Minister Narendra Modi's statement that his government would wait for the Supreme Court's order on the Ram Janmabhoomi-Babri Masjid dispute before making any move.
"The people and the sadhus of Ayodhya, in particular, and the people of the country, in general, have been disappointed with Modi's plan. The people want immediate building of a permanent Ram temple in Ayodhya. The Prime Minister has disappointed the entire country," Mahant Satyendra Das said.
"The Prime Minister is cheating us. The people had voted him to power in 2014 with the hope that he would pave the way for the (construction of the) Ram temple before the 2019 (parliamentary) elections. But he is dragging this issue for political mileage."
Modi, in an interview broadcast on TV channels, had said: "The matter of ordinance on the Ram temple will arise when the Supreme Court gives its order and the legal process is over."
Mahant Kamal Nayan, the next in line to head the Mani Ram Chhawani temple, Ayodhya's largest, said: "We had recently discussed this issue with BJP president Amit Shah. He had told us there would be a constitutional deadlock if they brought a bill in Parliament when the matter is pending in the Supreme Court. What Modi said also suggests the same."
The court is set to decide this week when the temple case will be taken up for hearing.
"But we believe they are giving lame excuses. There is a BJP government at the Centre and in the state and this is the right time to start building the temple," Nayan added.
Iqbal Ansari, a plaintiff from the Uttar Pradesh Central Sunni Waqf Board, one of the parties to the dispute, said he agreed with what Modi had said but the way the Rashtriya Swayamsevak Sangh and the Vishwa Hindu Parishad have been holding gatherings and meetings contradicted the Prime Minister's assertion.
"We don't consider Modi, the RSS and the VHP as different. They believe in the same ideology and belong to the same Sangh parivar. This raises the suspicion about their real plans."
The VHP wants the Centre to soon enact a law for building the Ram temple.
Jagadguru Rambhadracharya, a saint considered close to Modi, had said at a Dharma Sabha in Ayodhya on November 25 that the Centre would resolve the deadlock by January 12.
"I had called (over the phone) a Union minister who is next to only Modi in the central government at 8pm on November 23…. He told me to tell the bhakts of Lord Ram that the Modi government would bring an ordinance or enact a law to pave the way for the temple's construction between December 11, 2018, and January 12, 2019. He said nobody under the sun would be able to shift this date," the saint had said.