Yogi minister on order spree after axe
Government set to roll back decisions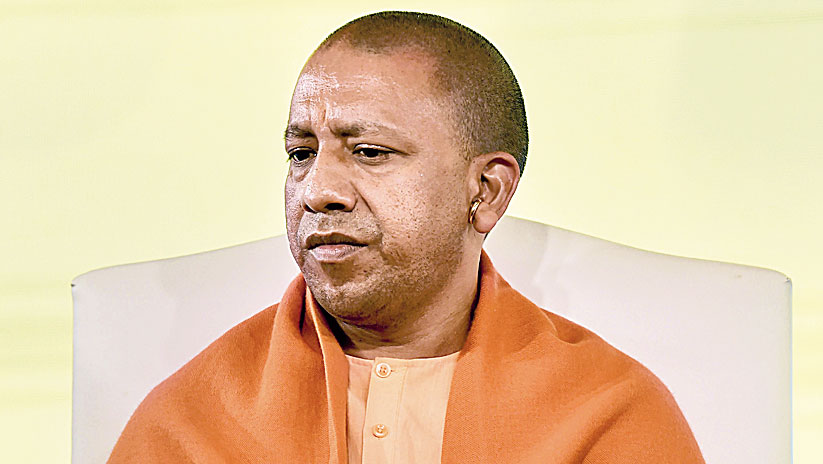 The source told reporters in Lucknow that chief minister Yogi Adityanath had ordered an internal inquiry on these orders.
(PTI)
---
Lucknow
|
Published 27.08.19, 10:44 PM
|
---
A BJP member of the Yogi Adityanath government allegedly gave additional charge to several engineers of his department hours before he resigned after being told to step down apparently because of corruption allegations.
Sources said the chief minister had on August 19 directed Dharmpal Singh, the then irrigation minister, to put in his papers.
"Singh complied with the order of the chief minister, but on August 20 evening. Before resigning, he asked senior officials to bring him files related to some superintending engineers of the irrigation department. He then gave at least half-a-dozen of them additional charge," a source in the department said.
"He kept the senior officials in the dark about his impending resignation and asked them to sign on his recommendations. The superintending engineers immediately took up the additional assignments," the sources added.
The source told reporters in Lucknow that the chief minister had ordered an internal inquiry on these orders.
Those who have been given additional charge include Sundar Lal Verma, superintending engineer of the Jhansi section of the Saryu canal who has been given additional charge of Khalilabad Drainage Part-2; Narendra Kumar Yadav, superintending engineer of the eastern Ganga who has been given additional charge of Mirzapur's Bansagar canal; Ajay Kumar Chaudhary, staff officer who has been given additional charge of Azamgarh's Sharda canal; Sushil Yadav, superintending engineer posted in Varanasi who has been given additional charge of Mirzapur's Sirsi dam; and Akhilesh Kumar Singh, staff engineer of Gonda who has been given additional charge of a dam construction project in Balarampur.
None of the engineers was available for comment on the additional assignments given to them.
Dharmpal Singh told reporters in his Assembly constituency, Aonla in Bareilly district, on Tuesday that he had not issued any such orders.
"I don't know about these orders. Such things are handled by the departmental heads and other senior officials," he said.
Anup Kumar Srivastava, the head of the department of irrigation, said the government would withdraw the orders.
"I was asked on August 20 to give additional charge to some superintending engineers, which I followed. I didn't know at that time that the irrigation minister had been asked to resign. We are withdrawing the orders," Srivastava said.
Dharmpal Singh, who is facing allegations of corruption in transfers and awarding contracts, was one of the ministers who had been asked to resign before Adityanath's first cabinet shuffle on August 23.
Rajesh Agrawal (finance), Anupama Jaiwal (basic education), Mukut Bihari Verma (cooperative) and Swatantra Dev Singh (transport) resigned on August 19 for various reasons.
These four leaders had themselves informed the media on August 20 morning about their resignation. Dharmpal Singh, however, didn't reveal that he had been asked to quit and people came to know only when his nameplate was removed from his chamber on August 21.
He went to Bareilly on August 21 afternoon and claimed before reporters that he was not involved in corruption.
"I am not involved in any wrongdoing. This is frustrating. I don't feel like going to Aonla. I have told my family members that I want to go to the Himalayas for peace. I will return from the mountains only after the inquiry (into the additional charge orders) is complete," Dharmpal Singh said.
As of Tuesday, he was still in Bareilly.