Xi, Modi take in sights of Mahabalipuram
Informal summit gets under way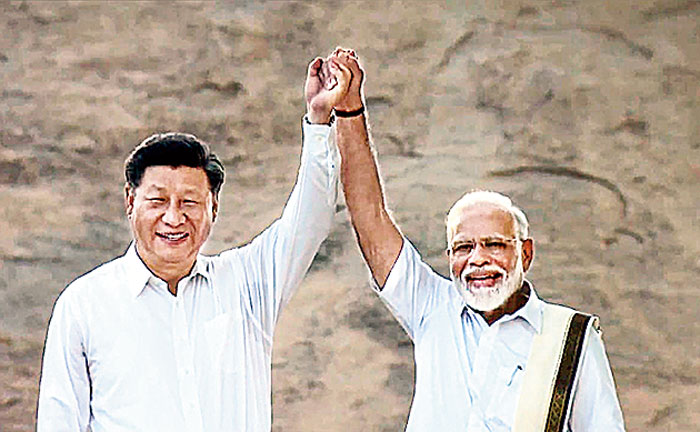 Xi and Modi in Mahabalipuram.
(PTI)
---
New Delhi
|
Published 12.10.19, 01:19 AM
|
---
Chinese President Xi Jinping and Prime Minister Narendra Modi began their second informal summit on Friday evening in front of the sea-facing group of monuments in the Tamil Nadu town of Mahabalipuram.
The choice of venue — Mahabalipuram's links with China date back to the 7th Century AD — was apparently meant to signal that the two countries' relationship is ordained not only by geography but also by history.
Between strolling around the group of monuments to watching a cultural programme and then having dinner, which went way beyond the scheduled time, the two leaders spent about five hours together, mostly without aides except for their respective translators.
Briefing journalists late in the night — nearly three hours behind schedule — the foreign secretary said the focus of their conversation over dinner was on trade issues and terrorism. Since the summit is still on, he did not reveal details of the conversation or field questions.
Xi arrived in Chennai in the afternoon and, after a break, travelled to Mahabalipuram where Modi welcomed him.
The Indian Prime Minister was kitted out in a mundu-veshti and angavastram, Tamil style. Xi too was dressed informally: gone was his coat and tie.
Modi escorted Xi around three of the main features of the Mahabalipuram group of monuments, a World Heritage Site. After they had strolled around Arjuna's Penance in full view of the cameras, they were driven to the Pancha Rathas, where arrangements had been made for them to sit down for a while and sip tender coconut water.
The two leaders then sauntered to the Shore Temple, where they watched an hour-long cultural event. The day's engagements concluded with a dinner, where an elaborate south Indian spread --- vegetarian and non-vegetarian --- had been laid out.
Given that the format of an informal summit eschews a specific agenda, both leaders are expected to flag whatever subjects of concern they want.
Going by what India's ambassador to China, Vikram Misri, wrote in the Chinese newspaper Global Times on Thursday, Modi is likely to bring up the trade deficit and underscore that improvements on the regulatory side are yet to translate into actual numbers in volume and value.
"It would also be a perfect example of win-win cooperation if China were to provide greater market access and regulatory clarity to Indian pharmaceutical products and IT/ITeS services, which are globally well regarded," Misri wrote.
"Generic Indian medicines have the potential to significantly reduce the medical expenses of the average Chinese household, preventing the kind of situation depicted in last year's runaway hit movie Dying to Survive, in which a character had to illegally smuggle medicine from India. Indian IT too can offer Chinese companies cost-effective solutions as they look to compete in an increasingly competitive global market."
New Delhi is also keen on getting more Chinese to visit India, and the showcasing of Mahabalipuram is part of that agenda. Despite the centuries-old cultural links, the number of visits to each other's countries remains abysmally low, Misri noted.
"China is the world's largest outbound tourism market and India is a neighbour with innumerable tourist products. With the opening up of the Indian electronic visa (e-Visa) facility to Chinese nationals since May 2015, we certainly look forward to many more visitors from China," he wrote.
Xi was expected to bring up the US-backed Indo-Pacific quadrilateral, a grouping that includes Japan and Australia. India's continued engagement with the grouping is widely seen as a bid by Washington to contain China.
The grouping had a foreign-minister-level meeting on the sidelines of the United Nations General Assembly last month --- its highest-level meeting since its resurrection in 2017.
China, sources said, has communicated its displeasure to India although New Delhi has been maintaining that the quadrilateral is inclusive and is not against any country.
"We have said several times that we see China as part of it by saying that the Indo-Pacific is inclusive,'' a government source had said on Wednesday, pointing to Modi's speech at the Shangri-La Dialogue in Singapore in June 2018.
In that speech, Modi had defined India's vision of the Indo-Pacific without once mentioning the quadrilateral formation of New Delhi, Tokyo, Canberra and Washington.
"India does not see the Indo-Pacific region as a strategy or as a club of limited members. Nor as a grouping that seeks to dominate. And by no means do we consider it as directed against any country," Modi had said.
"India's vision for the Indo-Pacific region is, therefore, a positive one. And it has many elements.''