Will speak in Parliament on China: Rajnath
Minister meets military chief on China border stand-off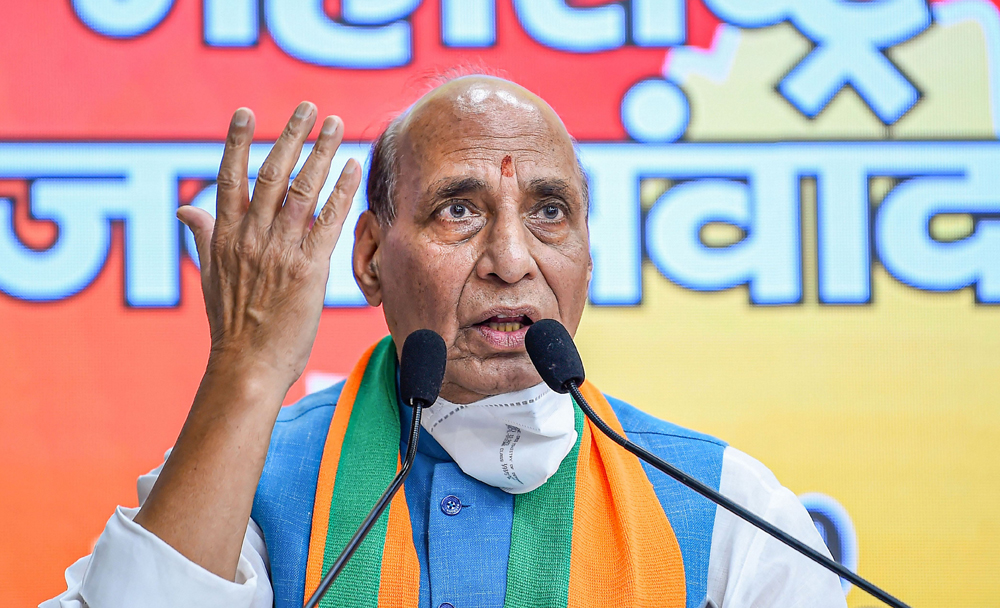 ---
---
Defence minister Rajnath Singh on Monday met the chief of defence staff, General Bipin Rawat, and the tri-service chiefs and reviewed the five-week-old border standoff between Indian and Chinese troops in eastern Ladakh.
Marathon talks between Indian and Chinese military commanders on Saturday to resolve the standoff had remained "inconclusive".
"The review meeting was called today (Monday) to assess the ground situation and chalk out future strategy," a defence ministry official said.
In the evening, Rajnath said that talks were on at the military and diplomatic levels between India and China to resolve the standoff.
"Talks are continuing at the military and diplomatic levels. Saturday's meeting between the military commanders was very positive," he told a BJP rally in Maharashtra via video link.
He said the Modi government would ensure that India's pride was not affected.
Referring to demands from Rahul Gandhi and other Opposition politicians for a clarification from the government on what was happening at the China frontier, he said: "As defence minister of India, whatever I have to say I will say inside Parliament. I will not mislead the people."
The army has so far been tight-lipped on the outcome of Saturday's meeting but India's foreign ministry issued an official statement on Sunday.
"It (the meeting) took place in a cordial and positive atmosphere.... The two sides will continue the military and diplomatic engagements to resolve the situation and to ensure peace and tranquillity in the border areas," it said.
The foreign ministry said that both sides had agreed to resolve the situation peacefully in accordance with various bilateral agreements.
Both India and China have turned down US President Donald Trump's offer to mediate.
Saturday's meeting was held in Moldo on the Chinese side of the Line of Actual Control. The Indian delegation was headed by the commander of the Leh-based 14 Corp, Lt Gen. Harinder Singh.
"During the military commander-level meeting India had sought restoration of the status quo and asked (the) Chinese to pull back from areas of troop build-up and also transgression points where they are said to have erected makeshift camps," a defence ministry official said.
Government sources said the Chinese army was hindering normal patrolling by Indian troops in at least four points in eastern Ladakh where the two sides have traditionally differed on their perception of the LAC.
Indian and Chinese troops have been eyeball to eyeball near the border at Pangong Lake, Galwan Valley, Demchok and Daulat Beg Oldie since May 5 after several soldiers from either side were injured in a clash involving fisticuffs and stones. The clash took place near the Pangong Lake, two-thirds of which is under Chinese control.